Park Lane Tavern in Short Pump, Richmond
| December 9th, 2021
Serving great food in diverse way + Happy Hour of the Week
---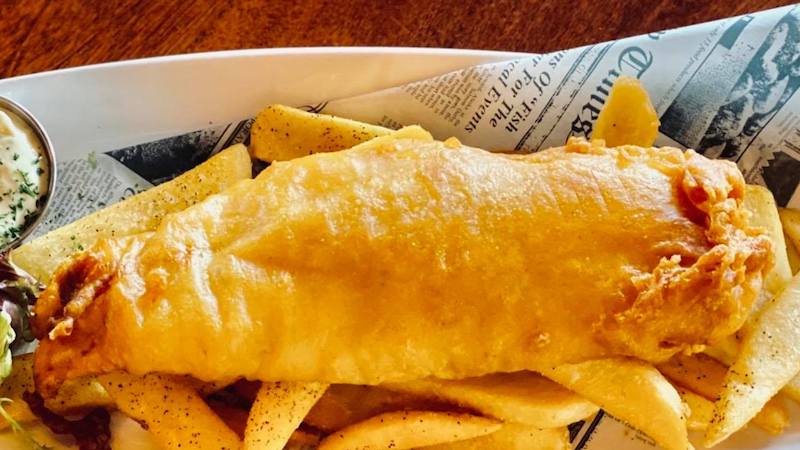 Richmond food and travel writer Steve Cook shares his latest restaurant find in Richmond, Virginia – Park Lane Tavern – and highlights the happy hour at Sloop: John B.
---
It's not that I'm against diversity, but I think the word is overused these days (often, it seems, by folks who think that by saying the word, they'll impress me with their intellect). But let me get off my soapbox long enough to tell you about a West End restaurant that I think takes diversity to new, delicious heights.
Diversity is especially important for those times when you and your friends are searching for a restaurant that offers a little bit of something for every taste. Personally, I feel that Park Lane Tavern in West Broad Village does an exceptional job when it comes to that kind of diversity.
I paid a visit recently with the goal of simply enjoying their happy hour. On Wednesday nights, all wines are $5 per glass, which is a quite significant savings. Anyway, I went for a glass of wine, but, well, one thing led to another and before you know it, I was enjoying one of their signature dishes – the Boddingtons fish and chips. Park Lane Tavern bills itself as offering a European tavern atmosphere.
Since I've never been to a European tavern, I'm not in a position to make an assessment on that. But I do know that the atmosphere is friendly and welcoming. If European includes offering a cozy area with an open fireplace, then, yes, this place is European. I do know that fish and chips is a British favorite and Park Lane's version of the dish is very, very good. The fish is a lightly battered whole Atlantic haddock, which I found to be exceptionally tender and moist. The tavern fries were also tasty.
Other European-inspired dishes include their Jägerschnitzel, a pork loin fried and topped with traditional onion and mushroom gravy. It's served with kraut, warm potato salad, and green beans. I'll admit, I'm a sucker for warm potato salad.
Although I haven't tried it, I'm told that the corned beef and beer-braised cabbage is quite delicious. If we haven't gotten European enough for you yet, the menu also offers bangers and mash, as well as a traditional shepherd's pie, which features ground beef and lamb served with their signature house-made bordelaise sauce.
There's so much to enjoy on the menu including pizzas, burgers, and their very popular Tavern wings, plus fresh salads, small plates, and more.
Park Lane Tavern is a relatively small restaurant chain, which I tend to shy away from, but I've been hearing so many good things about them, that I decided to give 'em a try. I am glad that I did.
You may want to do the same.
My next visit will be to sample their Sunday brunch, which is served from 10 a.m. until 2 p.m. The brunch menu sounds delectable, with such entrees as crab benedict (one of my favorites). Or how about a Redneck Benedict, featuring fried chicken and buttermilk biscuits? If you're in to small batch bourbons, craft beers, and a wide, shall we say, "diverse," wine menu, I think you'll like their bar, too.
All in all, Park Lane Tavern really does offer the sort of diversity that I crave.
Park Lane Tavern, Short Pump Richmond
Happy Hour of the Week
You may not have heard much about Regency Mall's newest restaurant, the Sloop: John B, which is described as an "Island Style Taco Bar." The folks at this new eatery are keeping a rather low profile for the time being. One of the highlights of this bright new dining spot will be their rooftop patio, which is slated to open come spring of 2022.
In the meantime, it seems that boatloads of taco lovers have already begun discovering the place. We'll tell you more about the Sloop: John B in days to come, but, for now, here's their happy hour info. Happy hour runs from 3 to 6 p.m. daily, and this is the Sloop scoop:
House sparkling – $7
Carib Lager – $3
Hi-balls – $4
House wines – $5
Take a look at their online bar menu, which features such cocktails as the Hemingway Special Daiquiri, an Oaxaca Old Fashioned and the Darker & Stormier. Specialty cocktails run from about $9 to $13.
For a worthy non-alcoholic option, the bar also offer Athletic Upside Down Golden NA. Enjoy the beer taste without the potential downsides.