Pierce's Pitt BBQ: Still Tangy After All These Years
| June 10th, 2020
The story behind this iconic barbecue restaurant, just off I-64
---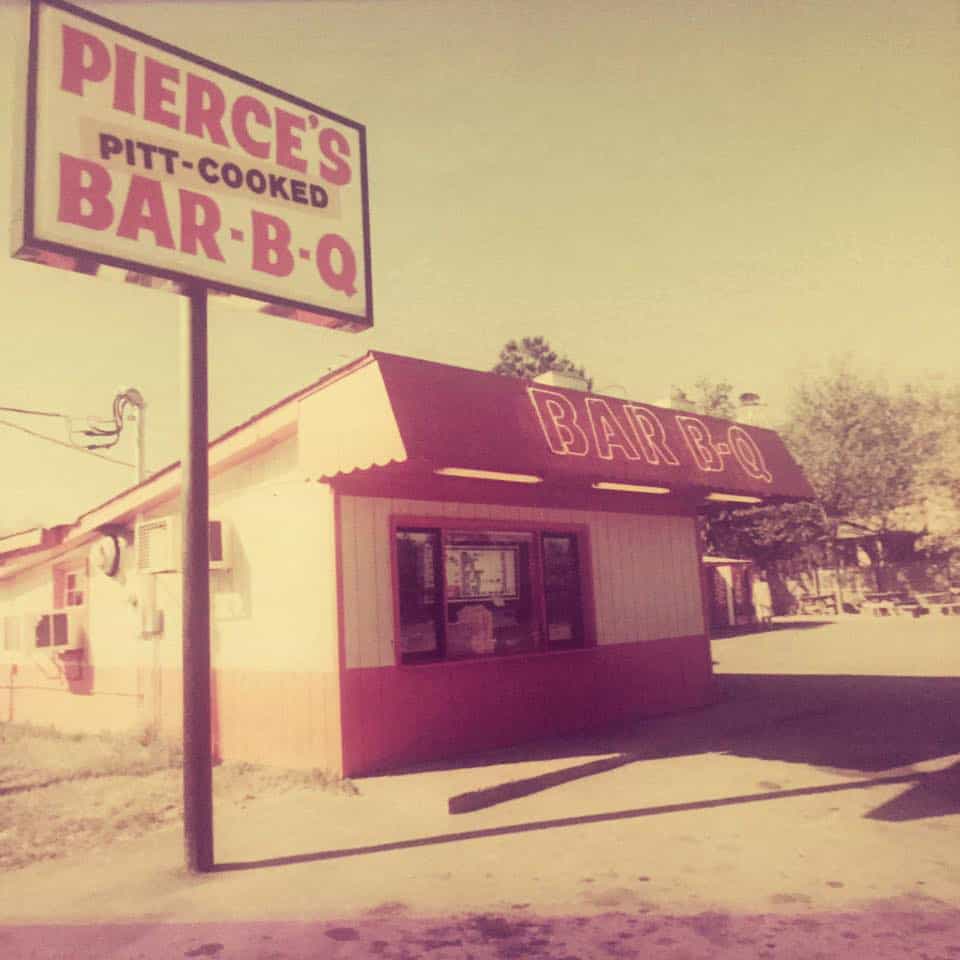 Julius C. "Doc" Pierce and his 15-year-old son, Jay, stared in disbelief at a plywood sign they'd paid a painter 20 bucks to produce that they hoped would draw customers to their new walk-up barbecue shack in Lightfoot. It was October 1971.
"Dad," Jay whispered, not quietly enough, "there's only one 't' in 'pit.' He painted two."
"If you knew how to spell it you should have painted it yourself," the painter snarled, "but I'll fix it for another 20 bucks."
Doc Pierce took the sign. Twenty bucks represented half of what he'd borrowed to start this new venture.
A DIVERSE QUEUE
The plywood came down long ago, but for 50 years Pierce's Pitt Bar-B-Que on East Rochambeau Drive (state Route 168) has remained an oasis for travelers, politicians, food critics and local Williamsburg-area residents. Famous for its tomato-based, Tennessee-style sauce – a tightly guarded secret recipe – Pierce's has catered governor's luncheons and balls for George Allen, Mark Warner and Tim Kaine. Colin Farrell dropped by while in Williamsburg filming The New World. On any given day, Jay Pierce said, you might find a soap-opera starlet and a construction crew sitting in adjacent booths.
"Blue collar to white tie," Jay said. "We see everyone."
Most customers park in the restaurant's ample lot – but not everyone.
A woman once climbed the fence that separates Rochambeau Road from Interstate 64, only to have her dress get caught in the wire. A policeman on the interstate side stopped and presented her with a $75 ticket and ordered her to come down and leave. For that kind of money, the story goes, the woman sassed the cop; she said she wasn't going anywhere without her food.
The trooper promised he'd drive to Pierce's and hand her a second ticket. Ever defiant, the woman replied that by the time he drove to the Camp Peary exit then up to the restaurant, about five miles, she'd have her order and be long gone.
"And he came and she was gone, just like she said," Jay said, laughing.
THROUGH THE DECADES
Fifty years presents the ideal opportunity to reminiscence, an exercise Pierce embraces.
When they opened, "Sandwiches were 85 cents," Jay, 65, recalled. "That first day we took in $80. My mother was scared and she cried and said we're going to starve to death. And my dad said, 'We made 100 percent today. We're gonna make it.'"
---
Like nostalgia? Browse celebrity nostalgia on our website.
Or sign up for our monthly Nostalgia e-newsletter or other e-newsletters tailored for boomers!
---
Doc, Jay and his mother, Verdie, literally built the original 14-by-16 cinder block store that remains part of a larger complex. Its iconic orange and yellow colors were chosen after Doc's eyes were drawn to U-Haul and Ryder trucks whizzing by and thought the color scheme would catch people's attention. Doc and Verdie worked alone until Jay got off school, after which he took over until closing. He now employs 63 staffers.
On a pit located just steps from their home, in the middle of a horse pasture, the family initially slow-cooked one box of Boston pork butts per week, about 60 pounds. Today, the six smoking pits that are housed in a separate building have a daily capacity, if needed, of 6,000 pounds. The only open-pit barbecue restaurant in Virginia, Pierce's burns through at least two cords of hickory and white oak a week.
A MEATIER MENU
And it's no longer just pork. Pierce's Pitt offers pulled chicken, brisket, ribs, burgers, hot dogs, even catfish. Among the "sides" on the menu are Southern-style collards, Brunswick stew and sweet, crispy hush puppies. The Boston butt is the most expensive and leanest cut of the pig. The chickens are free-range and raised at a nearby farm, which also provides collards and other vegetables. No steroids. No additives. Zero preservatives. And no antibiotics.
Doc's tangy sauce, created after dozens of tastings at the family table, is still made in-house for customers dining in. And while it still draws raves, Pierce said his restaurant's fame also stems from the method they use to cook.
"Low and slow is the name of the game," he said. "We cook at very low temperatures and for long periods of time. Depending on whether it's summer or winter, we start at either four o'clock or five o'clock in the morning. It's not until one or two in the afternoon that the pork comes off."
CHOICE CUTS, CHOICE WORDS
The accolades for Pierce's seem endless. It's a regular on Southern Living's annual Reader's Choice list. Coastal Virginia magazine named Pierce's one of the state's "iconic" restaurants. The Travel Channel rated its chicken dinner the eighth best in America, and would have listed it higher had Pierce surrendered his rub recipe. Garden and Gun magazine proclaimed Pierce's one of the Southern BBQ places you have to visit during your lifetime. National Geographic's "The 10 Best of Everything" included Pierce's in its barbecue list.
After Paula Deen stopped by, she wrote, "Pierce's Pitt is oozing with the comfort of home cooking in a way not seen very often anymore."
It all makes Jay Pierce think of his dad, who died in 1991. His determination, however, created what Jay called "an American success story."
"He told me, 'Simplify and be proud of what you do,'" Jay remembered. "'If you're going to be a ditch digger, be the best one. Hold your head up high and be proud of yourself and you will be successful.' I am proud of the fact that we have survived for 50 years, and I appreciate every customer that walks in that door."
Doc also advised his son never to brag about their food.
"Allow others to do it for you," he said.
For half a century, people from all walks of life have done just that.
---
Satiate your appetite for Richmond's own 50-year-old restaurant scene!
---
Jim Ducibella was inducted into the Virginia Sports Hall of fame in 2010 after a 27-year career at The Virginian-Pilot in Norfolk. He is author of two books about golf, but his new motto is "There's more to life than balls, bats and clubs."