Talking Tasty Tacos at Pinches Taco Bar
| April 27th, 2023
Another culinary venture from Eduardo 'Lalo' Macias
---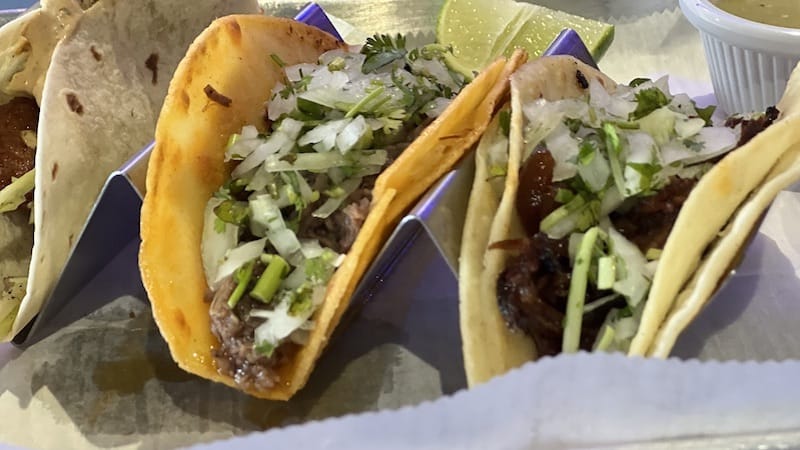 Life-changing tacos? That's what food and travel writer Steve Cook claims to have found at Lalo's Pinches Tacos Bar and Grill in Richmond's West End. He shares his experience – and invites dissent.
---
I had somewhat of an epiphany this week. I realized that I had never stopped to truly appreciate the beauty, the splendor, or the exquisite delights of a taco. I guess I have been taking the taco for granted.
Obviously, not all tacos are created equal. I've always enjoyed checking out the variety of taco trucks that one can find at any number of local gas stations. There are also some cool little holes in the wall that offer up excellent tacos.
But I've never really tasted a taco, gasped in delight, and proclaimed loudly, "Now, that's a taco." I never found myself dreaming about my taco lunch and hankering for more tacos later in the day. Until now. Let me share. I do love to share.
I got a phone call the other day that changed my life, perhaps not as dramatically as if Ed McMahon had phoned to tell me I'd won the Publishers Clearing House, but it was life changing.
This call was from an "Ed," just not McMahon. It was from Eduardo Macias. Now, you may know Eduardo better as Lalo. I've written about Lalo and his various Mexican restaurants around town. But Lalo was calling to invite me to stop by and visit him at his latest culinary venture, Lalo's Pinches Tacos Bar and Grill at 8026 W. Broad St., just a few doors down from the Big Lots store.
I've enjoyed Lalo's Mexican restaurants through the years. I've written about what I consider the excellent food, the friendly atmosphere, and the best Margaritas in town. Well, since I try to avoid superlatives, let me rephrase that to say that his are definitely on my top five Margarita list.
So, while I'm always up for a visit with Lalo, I went in the new place with no anticipation that my world was about to be turned upside down. Admittedly, with advanced age and vertigo, it doesn't take much to turn my world upside down.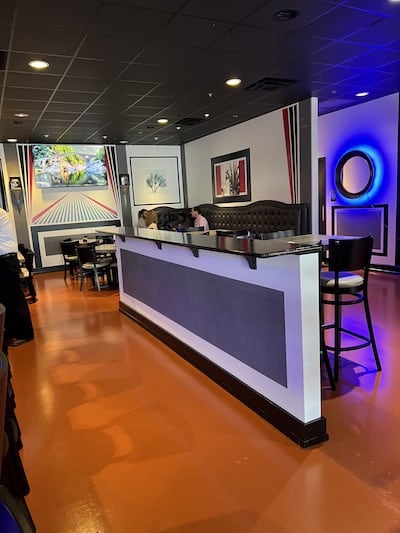 But I had no idea when I entered this bright and airy little restaurant that the taco of my dreams was waiting inside. My first impression was that Pinches may be the most beautiful of Lalo's restaurants. I kinda got the feeling that I was sitting at a bar on a luxury ocean liner. Maybe it was the delightful aroma of Mexican cooking wafting through the room, but the first word that came to my mind was "azure." Rather than try to explain the reason for that, why don't you just go in and see if that's the first word you think of.
As I was sitting at the beautiful bar soaking in the atmosphere, Lalo came over, greeted me, and introduced me to his cousin, Erica.
Before talking tasty tacos …
Before I get to the tacos, let me tell a little bit of the back story here. Ever since he opened his first restaurant, Lalo has made great efforts to help his friends and family get into the restaurant business. His cousin, Erica Lopez, and her husband, Geraldo Rodriguez, have, for some years now, been quite successfully operating their Pinches Tacos truck around town. As they would say, "Stop in and pinch a taco."
Lalo invited them to join him in his new taco bar venture. They found a spot in the Fountain Square Shopping Center where the old Bon Chon used to serve up what I thought was some pretty good Korean fried chicken. Voilà, the chicken has now become the central ingredient in one of the greatest tacos on earth.
Yes, now let's get back to the tasty tacos. I have had street tacos, but to be quite honest, Lalo is now serving the most amazing street tacos that I've sunk my teeth into. I guess I had walked down Taco Street before, but the pavement had always stayed beneath my feet. Let me repeat this for emphasis. Lalo's new tacos are simply amazing.
Don't take my word for it. Try 'em out for yourself. My daughter tried them. She gushes even more than do I, but she says that Pinches is Lalo's best restaurant yet. She says the chicken tacos are her favorite. My grandson, who doesn't gush at all, said you certainly can't complain about the quantity of the food. I guess he's at that age where quantity is more important than quality.
Jared H., a good friend of mine, checked the place out, and he made an interesting comment. Later in the day, several hours after he'd eaten, he said, "Hey, I still feel good. Usually, when I have tacos," he continued, "I can feel it."
While I'm not exactly sure what he's been feeling, I can somewhat relate. Usually after two or three (okay, sometimes eight) tacos, I'm not in a mood to eat anything else for a day or two. But after my visit to Pinches, I found myself wanting to go back for more of those fantastic tacos.
Seeing the look of amazement on my face and the smile on my taco-sauce-stained lips, Lalo said, "These are authentic. Now, what I've been serving (at his other restaurants) is authentic, but these are more authentic."
Rather than try to examine the varying degrees of authentic, I'll just tell you what I had.
The authentic tasty tacos
Lalo served me up three very generously proportioned tacos. The first was the Baja Taco. According to the menu, you can get the Baja with the fried, breaded tilapia (that's what I had) or the grilled shrimp (that's what I'm going to have next time). The tilapia was very good. The sauce kinda had a tartar sauce appeal, and since I'm a big fan of tartar sauce, I thoroughly enjoyed the Baja. It was the only taco I tried that uses the flour tortilla. The true, original tacos, which were "created" by miners working in Mexico's silver mines going back to the 18th century, were made with corn tortillas, as are most of the tacos at Pinches.
Speaking of those silver miners, here's an interesting tidbit that I learned. When the miners were blasting holes in the mines, they would take gunpowder and wrap it in thin sheets of paper and blast away. These little wrapped sticks of gunpowder were called tacos. It seems the word basically refers to something folded in half.
Something else they folded in half were those corn tortillas filled with fish and cooked organs along with onions, cilantro, pico de gallo, sliced radishes, avocado, and, of course, chili peppers.
Ultimately, they began referring to both the dynamite and their somewhat explosive tortillas as tacos. Now, before you start disputing my little history lesson, let me say that there are other explanations as to the origin of the word "taco." But I like this one and I'm going to keep telling it.
But, again, I digress. My second taco was the carnitas. The central ingredient in this one is the rich, tasty, slow-cooked pork.
And finally, perhaps my favorite, was the steak taco. Now, you may be thinking that this sounds like any other taco in town. And it's true – just look at the menu at virtually any Mexican restaurant or perhaps even a Mexican fast-food joint whose name may ring a bell. But while words have meaning, tastes have even greater meaning, especially when you're eating. You can look at the words – the descriptions of Lalo's tacos on the website. But you'd be much better served to try them yourself.
While I don't want to start a taco war, if you want to hurl the first tacos mineros (look it up), I'm game. Let me know who you think makes the best taco. I love nothing better than research, except, perhaps, a great taco.
Lalo's Pinches Tacos Bar and Grill
8026 W. Broad St.
Richmond, Virginia
---
Steve Cook has lived in the Richmond area for most of his life, working as a writer and editor and in marketing and radio. He loves to keep abreast of the local restaurant scene and researches the subject voraciously. "I used to think I was a foodie," he says, "but then I realized I just like to eat a lot." He once co-hosted a local Richmond restaurant radio program with BOOMER editor Annie Tobey. Steve completed his first novel in 2017 and says he hopes to read another one this year. You can weigh in on the best tacos in town at stevecookwrites @ gmail.com. 
Dig in to more restaurants and other recommendations from Steve Cook