The Alzheimer's Association of Greater Richmond
| August 21st, 2019
Fighting a pervasive disease
---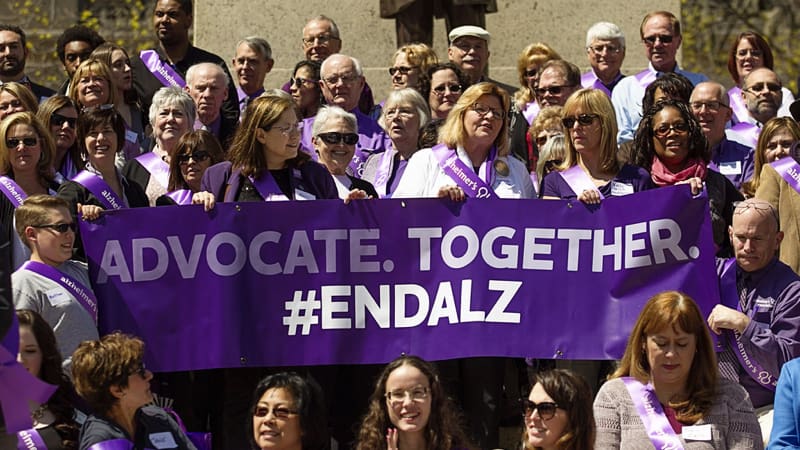 The statistics are shocking. More than 30,000 people are living with Alzheimer's in the Richmond area. One in three seniors dies with Alzheimer's or another dementia. During the last 17 years, the number of people dying from Alzheimer's jumped 145 percent. Nationwide, 5.8 million Americans are living with Alzheimer's – a number that is projected to reach 14 million by 2050 – with more than 6 million caregivers for those living with Alzheimer's and other dementia. If you haven't been touched by Alzheimer's, the likelihood is great that you will be in the coming years. 
Fortunately, there's an organization that is Giving Back to those suffering from Alzheimer's and to their caregivers in our community. The Alzheimer's Association of Greater Richmond is a lot of things to a lot of people. It provides support to those with the disease and their caregivers, and it funds vital research aimed at prevention and finding a cure for Alzheimer's. The key resource the Alzheimer's Association of Greater Richmond provides is education. 
"There can be life with this disease," says Katie Hood, development director at the Greater Richmond Chapter. "We provide lots of caregiver education to communities. African Americans are two times more likely to be diagnosed with Alzheimer's, and Hispanics are 1½ times more likely."
Alzheimer's is a degenerative brain disease, the most common form of dementia. Of the 30,000 Richmond-area residents diagnosed with Alzheimer's, the local association chapter estimates it's providing help to only about two percent of them. "We need a greater volunteer base to assist the growing number of people in need," explains Hood. 
LEADING THE CHARGE
The Greater Richmond Chapter needs more volunteers like Jessica Thomas.
The 33-year-old is the 2019 Walk to End Alzheimer's co-chair. She's been actively volunteering for eight years. "It's who I am. It fills my soul," explains Thomas. "What I get from the walk and from the Alzheimer's Association is so much more than I give. I see the impact of the money we raise. I get to see that direct result of how the money is helping families." Thomas, who doesn't have a family member touched by Alzheimer's, works for a health-care company that serves Alzheimer's patients. 
She believes the fight against Alzheimer's is similar to the high-profile attack on cancer that started many years ago. "There have to be people who get behind this and say, 'What can we do to end it?' They did that with cancer, and now they're beating it in so many ways," exclaims Thomas. "I believe there's hope this disease can be beat. There will be an answer, and volunteerism can help." 
The Longest Day is an annual volunteer fundraising effort that takes place on June 21, the longest day of the year, where people organize a sporting event, game or party to raise money.
Last year, Thomas chaired the Walk to End Alzheimer's. Her husband, mother, nieces and nephews volunteered with her. This year she hopes even more participants will come out. "It's the single largest activity the Alzheimer's Association Greater Richmond Chapter does," proclaims the Chesterfield resident. "We bring thousands of people out on the same day, people who are facing this disease. It's the one time you can look around and everyone around you understands and supports you. It's empowering!" 
We feel your passion, Jessica, and we're marking the calendar to be there volunteering Nov. 2. 
---
WANT TO HELP? 
Alzheimer's Association Greater Richmond Chapter
HOW IT HELPS: Provides support and care for those living with Alzheimer's and dementia and their caregivers, funds research and drives awareness and advocacy.
HOW YOU CAN HELP: Volunteer or participate in a Walk to End Alzheimer's on Nov. 2.
WEBSITE: ALZ.org /grva
CONTACT: Visit the website under "Get Involved" or contact Rachel Lawson at 804-967-2575 or RaLawson@ALZ.org to register for volunteer training. 
LOCATION: Alzheimer's Association Greater Richmond Chapter, 4600 Cox Road, Suite 130, Glen Allen, VA 23060.
UPCOMING EVENT: Walk to End Alzheimer's, Nov. 2, Bon Secours Washington Redskins Training Center, 8 a.m. to noon. 
---
Lisa Schaffner, a former WRIC-TV anchor, is public relations and marketing director for UNOS, United Network for Organ Sharing. LisaSchaffner@verizon.net