2021 Virginia Craft Beer Cup Awards Announced
| August 17th, 2021
More than 60 beers to put on your must-try list
---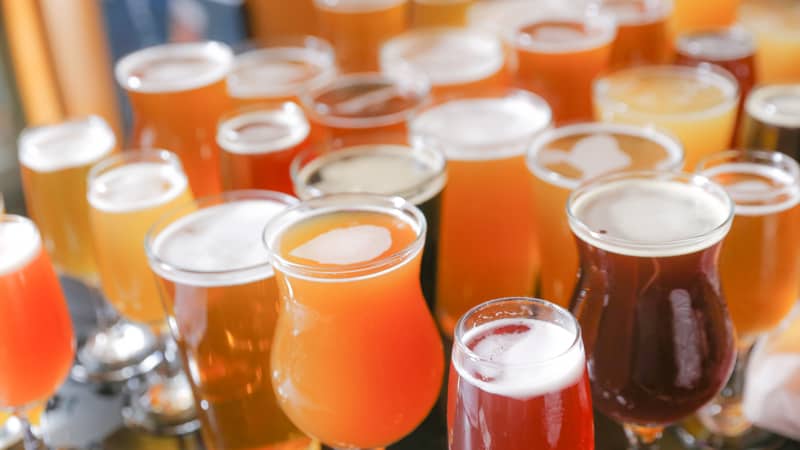 Virginia craft beer fans have much to be proud of in the commonwealth, as evidenced in the 2021 Virginia Craft Beer Cup awards. The winners were announced at Hardywood Park Craft Brewery's West Creek location on Aug. 16, 2021.
Virginia craft beer keeps growing
At the event, Secretary of Agriculture Bettina Ring informed guests that the state has 330 independent craft breweries. Craft brewing has a $1.4 billion impact in the commonwealth and employs 10,000 people.
The Virginia Craft Beer Cup competition is organized by the Virginia Craft Brewers Guild, the state affiliate of the Brewers Association, with many of Virginia's independent breweries as members. This year marked the 10th anniversary of the VCBG.
Of the state's 330 breweries, 95 entered 283 beers in 20 categories, making it the largest competition in VCBG history. Member breweries from around the state attended the August ceremony.
The Virginia Craft Beer Cup is the largest state competition of its kind in the United States. It gives member breweries the chance to compete, obtain critical feedback from certified judges, and get statewide recognition to help build their brands. The VCBG is developing other opportunities for winners, ranging from a Cup Winner Beer Trail to digital medals for labels and retail displays.
Let the winners' list be your guide to Virginia breweries to visit or beers to nab from retail shelves or restaurants. Helpful planning resources include the Virginia Brewery Map or to the Virginia Tourism Corporation's craft beer site.
The 2021 Virginia Craft Beer Cup winners are as follows:
BEST IN SHOW
First Place: Fair Winds Brewing Company, Quayside Kölsch
Second Place: The Virginia Beer Company, Terminally Pretty
Third Place: Dynasty Brewing Company, 838 Stout
ALTERNATIVE GRAIN(S), SUGAR(S), OR MIXED STYLES
First Place: Blue Mountain Barrel House, Blueberries on Acid
Second Place: St. George Brewing Company, Honey Meade Lager
Third Place: Blue Mountain Barrel House, Raspberries on Acid
AMBER ALE
First Place: Sweetwater Tavern, Great American Restaurants Pale Ale
Second Place: Moon Hollow Brewing Company, Lunar Highlands
Third Place: Dragon Run Brewing, One Irish Red
AMBER LAGER
First Place: Old Bust Head Brewing Company, Time Lapse
Second Place: Caboose Brewing Co., Vienna, VA Lager
Third Place: The Bold Mariner Brewing Company, Frogman Lager
BROWN ALE
First Place: Dragon Run Brewing, Beanfield Brown
Second Place: Nansemond Brewing Station, BEEnut Butter Nut Brown Ale
Third Place: The Board Room VA, The Bishop Brown
BOCK
First Place: Sweetwater Tavern, Sidewinder Bock
Second Place: Lake Anne Brew House, Behind Maibock
Third Place: Wasserhund Brewing Company, April Showers
---
'Virginia Beer: A Guide from Colonial Days to Craft's Golden Age' by Lee Graves 
Virginia historic beverages trivia quiz: How much do you know?
---
DARK LAGER
First Place: Young Veterans Brewing Company, What About Us Lagers?
Second Place: Twin Creeks Brewing Company, Black Bar Bier
Third Place: Broken Window Brewing Company, Blitzn'd
FRUIT
First Place: Olde Salem Brewing Company, Bare Necessities
Second Place: Dirt Farm Brewing, Fluster Cluck
IPA
First Place: Pale Fire Brewing Company, Arrant IPA
Second Place: Fair Winds Brewing Company, Howling Gale
Third Place: The Vanguard Brewery & Distillery, Snap Guns IPA
KOLSCH
First Place: Fair Winds Brewing Company, Quayside Kölsch
Second Place: Bear Chase Brewing Company, Kodiak Kolsch
Third Place: Ornery Beer Company, Light of Cologne
MIXED FERMENTATION
First Place: Fine Creek Brewing Company, Rosé Gose
Second Place: Reason Beer, Wood Song Red
Third Place: Maker's Craft Brewery, Barrel Aged Sour Cherry Porter
PALE ALE
First Place: Lost Barrel Brewing, Farm Ale
Second Place: Wheatland Spring Farm + Brewery, Westerly
Third Place: Old Ox Brewery, Ernest Cream Ale
Honorable Mention Cave Hill Farms Brewery, Pathfinder Pale Ale
PALE LAGER
First Place: The Virginia Beer Company, Terminally Pretty
Second Place: 7 Dogs Brew Pub, CBL Lager
Third Place: Iron Pipe Alewerks, Four Horsemen of Helles
PILSNER
First Place: New Realm Brewing Co., Euphonia Pilsner
Second Place: Wheatland Spring Farm + Brewery, Found Artifacts
Third Place: Rocket Frog Brewing Company, Žába
PORTER
First Place: Black Hoof Brewing Company, Duck Blind Baltic Porter
Second Place: Port City Brewing Company, Porter
Third Place: Old Ox Brewery, Black Ox
SPECIALTY IPA
First Place: Ballad Brewing, Love Wins Wheat IPA
Second Place: Eastern Divide Brewing Company, Cliffhanger Session IPA
Third Place: Precarious Beer Project, Jiu Jitsu Shih Tzu
Honorable Mention 2 Silos Brewing Co., Mosaic Goat
STOUT
First Place: Dynasty Brewing Company, 838 Stout
Second Place: The Virginia Beer Company, Elbow Patches
Third Place: Sweetwater Tavern, High Desert Imperial Stout
STRONG ALE
First Place: Olde Salem Brewing Company, Death Letter
Second Place: Beltway Brewing Company, Art in Execution
Third Place: Broken Window Brewing Company, The Highlander
VEGETABLE/SPICE
First Place: Tucked Away Brewing Company, Local National (Jalapeño)
Second Place: Water's End Brewery, Christmas Quad
Third Place: That Damn Mary Brewing Company, Smack It Like Its Hot
WHEAT BEER
First Place: Ornery Beer Company, Down Wit It
Second Place: The Farm Brewery at Broad Run, Fat Bird
Third Place: Tasting Room & Taphouse at Mount Ida Reserve, Leipziger Gose
WOOD & SMOKE
First Place: Cedar Run Brewery, Barrel Aged Gus Imperial Stout
Second Place: Brothers Craft Brewing, Resolute
Third Place: Hardywood Park Craft Brewery, Tom Cat Wheatwine
Honorable Mention Mountain Valley Brewing, Porter's Porter