Virginia Spirits: Lost Whiskey Club
| September 9th, 2020
Featuring the High Rye Bourbon, Single Barrel #6
---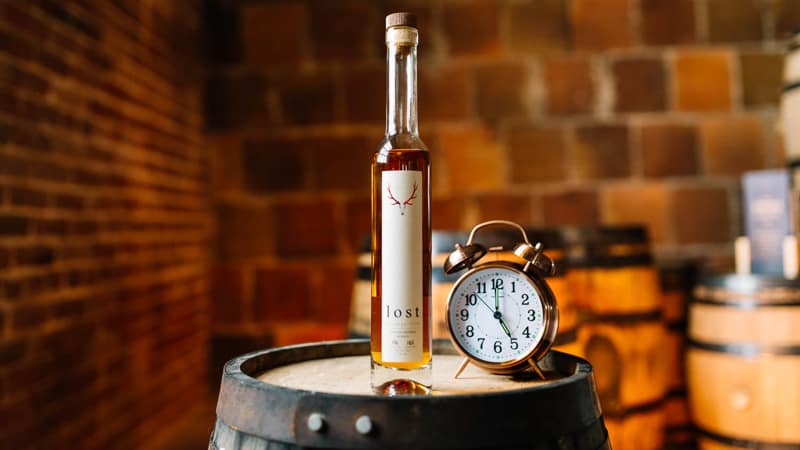 It's Virginia Spirits Month, which means "It's 5 o'clock for 30 days!" Need a distillery guide? We can help with that.
Interested in our state's boozy history? We can help with that too.
---
The founders at Lost Whiskey Club built the company on the belief that nature is the greatest therapy. (I happen to think it's whiskey, but they would likely agree with that, too.)
Founded in 2016, this distillery is more than just – well, a distillery. Their property is situated in the mountains right along the Appalachian Trail … with a view worth the visit itself. They have a bucolic farmhouse, along with uniquely rustic-yet-modern concrete cabins. But if you don't ever make it out to their scenic destination, their outdoors-in-a-bottle whiskey is designed to bring the experience to you.
"We are architects and builders who have always been inspired by place and the experiences it can create," says Mark Turner, owner. "The LOST Whiskey Club is a culmination of this love affair with nature, people, structure, and 'the lost art of gathering.'"
As for their unique bottle sizes? "We only offer 375 ml bottles so that you can start and finish the bottle in a single evening amongst friends responsibly," Turner explains. Their bottles also come with a small, one-of-a-kind leather strap – a rustic souvenir to always remember the good moments, with good people, enhanced by good spirits.
The whiskey from Lost, after all, is more than just whiskey: it's an experience.
Lost Whiskey Club
Fairfax, Virginia
---
Featured Product: High Rye Bourbon, Single Barrel #6
The flavor on this rye bourbon is subtle and approachable, but still offers all of the big players sought out in a whiskey. With an initial spicy bite at the beginning, the taste quickly melds into smooth creaminess on the back.
The founders at Lost Whiskey Club love the outdoors, and strive to incorporate the taste and feel of nature into each bottle. And somehow, no matter where you drink it, this whiskey has the power to take your imagination to a chilly mountain top, in the middle of a colorful autumn evening, next to a roaring bonfire.
Close your eyes, sip, and let your mind grow blissfully, peacefully … Lost.
---
Recipe: Lost High Ball
1.5oz Lost High Rye
.5oz Ginger Lemon Dill Syrup
4oz Topo-Chico (Or any sparkling water)
Stir the Lost High Rye and Ginger Lemon Dill Syrup together. Add lots of ice.  Top off with Topo Chico and a dill frond garnish.
Ginger Lemon Dill Syrup
300g sugar
300g water
60g peeled, diced ginger
12-15 fronds fresh dill
Peel of 2 lemons
Juice of one lemon
Combine sugar, water, lemon peel, and ginger and bring to a boil. Then immediately lower heat and let simmer for 5 minutes. Add dill fronds and let simmer another 5 minutes. Remove from heat and allow to cool to room temperature. Once cooled, add lemon juice.