What's New at the Outer Banks
| July 18th, 2019
An ever-changing OBX
---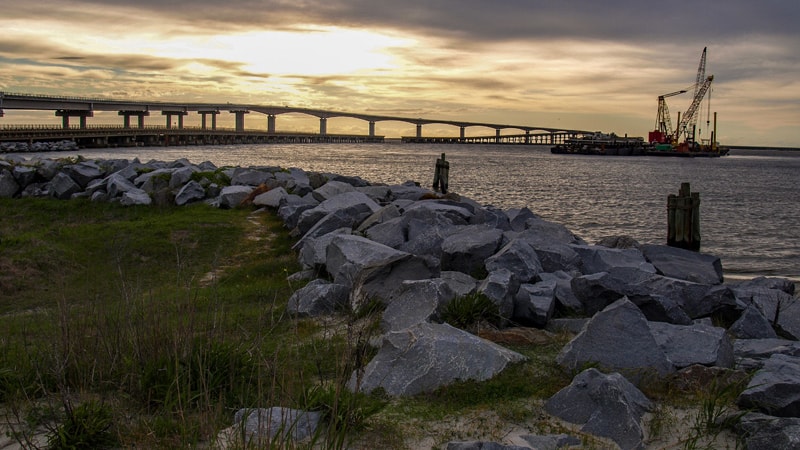 There's always something new under the sun … or in the sand … or over the water. But somewhere on the Outer Banks, a new bridge, a new activity, a new restaurant, a new something is happening.
We picked out some of the best of the new for this year. It's not a complete list, but we think it represents some of the best and biggest on the Outer Banks.
MARC BASNIGHT BRIDGE REPLACES THE BONNER BRIDGE
Speaking of big, it doesn't get much bigger than the Marc Basnight Bridge, the replacement for the Bonner Bridge.
Crossing Oregon Inlet and connecting Hatteras Island with the rest of the world, the new bridge is a spectacular feat of engineering, dwarfing the Bonner Bridge. Longer (2.8 versus 2.4 miles), higher (it's 90 feet at the highest point) and wider, with eight-foot shoulders that can be used as bike lanes, the bridge has a life expectancy of 100 years.
The Bonner Bridge, which was 26 years past its predicted lifespan when the Marc Basnight Bridge opened, will live on. Dismantled and cleaned up, the scrap will be taken to sea to create a new artificial reef. On the south end, 1,000 feet will remain as a fishing pier. 
A NEW HIGH-SPEED FERRY
High-speed passenger ferry service between Hatteras and Ocracoke has arrived, an addition to vehicle ferries that serve the route. The North Carolina Department of Transportation had to jump through some hoops, finding a boat in New Jersey. The ferry will dock at Silver Lake in the heart of Ocracoke Village. Initial plans call for three round trips daily.
CASEY R. LOGAN DISC GOLF COURSE, KILL DEVIL HILLS
A beautiful and somewhat challenging disc golf course cuts through a maritime forest. Each hole has two tees. Yellow are shorter and easier; red longer and more challenging
To get there, go to First Flight Middle School and look for the gravel road to the right of the football field. The course is at the end of the gravel road.
Late spring, summer and early fall – insect repellant will be useful.
PEDESTRIAN USE PATH, DUCK
The shopping area of the Town of Duck is the perfect size for a walking tour of some of the finest and most unique shops and restaurants on the Outer Banks. The just-completed Pedestrian Use Path takes it to the next level.
Paths line both sides of NC 12 as it heads north to Corolla. Alongside the sidewalk are bike paths, keeping pedestrians and bicyclists separated.
Completed some time ago but part of the pedestrian-friendly nature of Duck, the waterfront boardwalk is a mile-long stroll along Currituck Sound with occasional shops and spectacular sunsets.
---
Other Outer Banks stuff that just might tickle your fancy:
---
NEW FOOD NEWS
There's so much happening in the food scene on the Outer Banks that we can't dish it all out here, but we'll present a sampling of some of the new places and ideas.
Ashley's Espresso Parlour, Kill Devil Hills
A funky espresso bar with a distinctly tropical feel, Ashley's Espresso Parlour is pet friendly and family friendly but, most importantly, the coffee is fantastic.
Ashley Linnekin has been roasting coffee on the Outer Banks for more than 10 years, and at the Espresso Parlour her roasting skills are on full display.
The shop is at the corner of Helga and the Bypass, right on the border between Kill Devil Hills and Kitty Hawk.
Try a siphon coffee – an old process for brewing a cup. Fascinating to watch and makes a wonderful cup of coffee. Facebook @Ashley's Espresso Parlour  
Woo Casa Kitchen, Nags Head
Featuring Latin American and Asian influenced dishes, the menu is limited by design. Chef Aaron Wooten – that's the Woo in Woo Casa – concentrates on really fresh ingredients and daily specials that are special. The seating area has a Costa Rican flare to it.
Open 10-6, there are no late-night hours so that the couple who own it can be home to raise a family. WooCasaKitchen.com
Off the Wall Tap House, Corolla
Twenty beers and more on tap, a nice outdoor seating area, innovative menu … that should make for a great lunch or dinner experience.
There are a couple of local beers featured along with a few standard and many hard-to-find lagers, IPAs, stouts and pilsners.
A nice touch, if there are kids or grandkids in the party, is a small but well-thought-out kid's menu. OffTheWallTapHouse.com
Northern Outer Banks Brewing Company, Corolla
The latest entry into the Outer Banks microbrew scene, NOBBC is creating some wonderfully refreshing and drinkable beers. Their Penny's Hill IPA is a throwback to a less hoppy, lighter version of the brew.
Most of the inside is given over to brewing beer, so expect to use the outdoor seating. NorthernOBXBrewing.com
Honorable Mention: Max's Italian Restaurant, Kill Devil Hills
For years, Chef Grant Sharp has been turning out some of the best pizza anywhere at Max's Real Pizza. However, that is just a small sampling of his skills, and in his new KDH restaurant at the Dare Center, he should be able to really shine. MaxsPizzaOBX.com
---
BE SAFE AT THE BEACH
Don't let sharks spoil your fun
The Outer Banks Visitors Bureau recommends:
To avoid sharks:
Do not swim near a pier.
Avoid waters being used by sport or commercial fishermen and diving seabirds.
Stay in groups.
Avoid being in the water during dusk, darkness or twilight.
Remove all shiny jewelry.
Avoid wearing brightly colored contrasting clothing in the water.
Refrain from excess splashing.
Exercise caution when swimming between sandbars or near steep drop-offs.
Do not enter the water if bleeding.
https://www.outerbanks.org/plan-your-trip/beaches/beach-safety/
---
Kip Tabb is a freelance journalist living on the Outer Banks. He has covered a wide range of community interest stories and true tales of the history of Coastal North Carolina as well as environmental and related topics for a variety of publications. In addition to his writing, Kip plays mandolin and can strum a guitar.