90 Years with J. Wellington Wimpy
| July 27th, 2021
The hamburger-loving Popeye character celebrates his birthday
---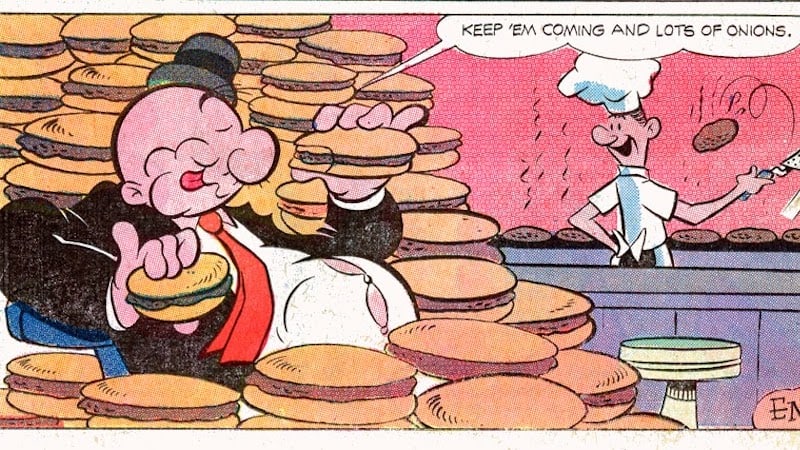 From first comic strip to commercials, through words and rare images, entertainment historian and Popeye expert Fred Grandinetti captures the story of J. Wellington Wimpy. He explores the evolution of the amusing, mooching, burger-loving character, as Wimpy celebrates 90 years of hamburgers.
---
There's nothing in the world that can compare
With a hamburger, juicy and rare!
A hamburger lives for the pleasure it gives,
It's a thrill on the bill of fare.
Such heavenly food deserves the best,
A home and contentness beneath my vest.
There's nothing in the world that's so divine
As a hamburger, tender and fine!
I adore you, hamburger mine.
J. Wellington Wimpy sang this song while cooking a hamburger in the animated cartoon, What – No Spinach, produced by the Fleischer Studios in 1936. Generations have grown up watching Wimpy's antics in movie theatres or on television. He is usually seen consuming a hamburger in some unlikely places or pursuing food.
Wimpy Debuts in the Thimble Theatre Comic strip
Wimpy is considered to be one of the greatest comic strip characters ever conceived. E. C. Segar created him for the Thimble Theatre comic strip.
In the Sunday comic strip dated May 3, 1931, a sleepy-eyed gentleman, resembling Wimpy, refereed Popeye's boxing match. In the May 24, 1931, Sunday strip Popeye's referee was unintentionally on the receiving end of a prizefighter's fist! Popeye addresses the black-eyed man as "Mister Wimpy."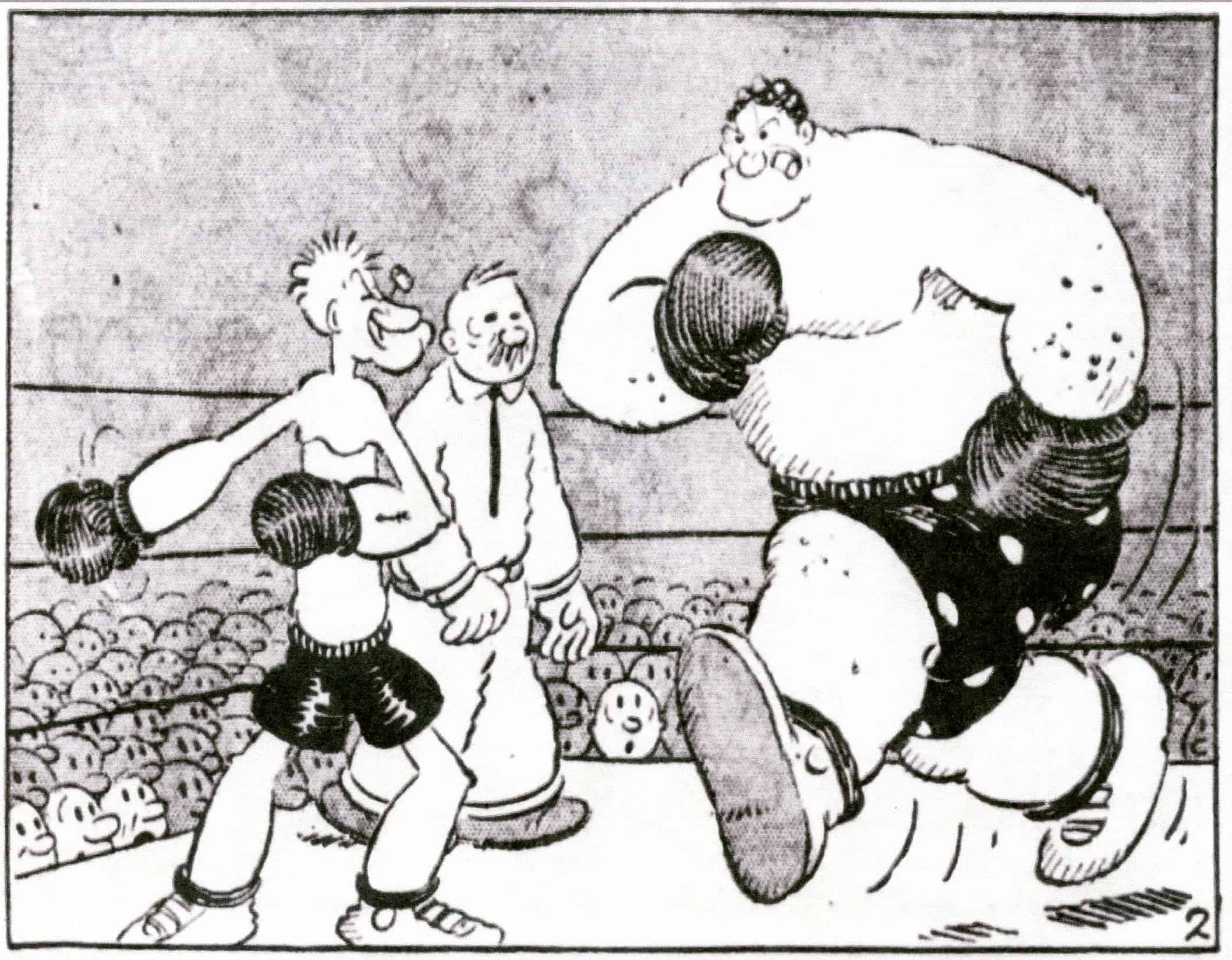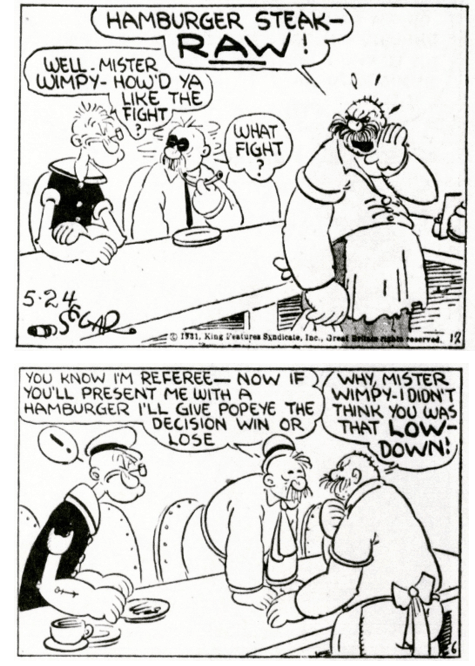 J. Wellington Wimpy became the antithesis of heroism and was an utter coward. He was a treacherous friend to Popeye. Wimpy had no scruples and would fix the outcome of one of Popeye's prizefights to his advantage. Segar etched Wimpy's character with a series of unforgettable one-liners, including:
"I'll gladly pay you Tuesday for a hamburger today."
"Let's you and him fight."
"I want you to come up to the house sometime for a duck dinner. You bring the duck."
"Come have lunch with me on you!"

Wimpy is also a ladies' man and has charmed the fair sex to obtain a free meal. He has also wooed the Sea Hag to protect his life or the lives of others. The Sea Hag has often used Wimpy as an ally in her schemes to defeat Popeye, using hamburgers as bait.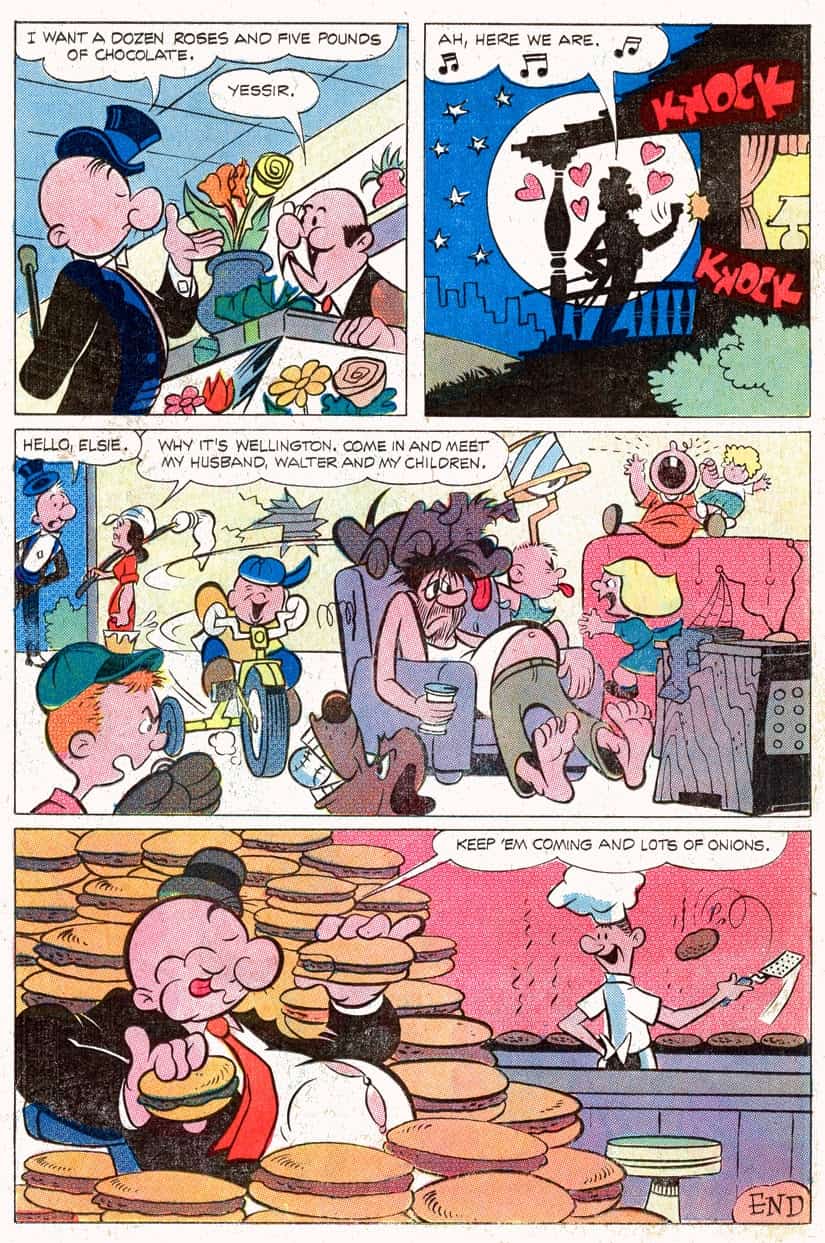 His two main enemies are restaurant owners Rough House and George W. Geezil. Wimpy has frequently conned both to obtain a free meal. Geezil's hatred is so intense he would enjoy nothing more than attending Wimpy's funeral.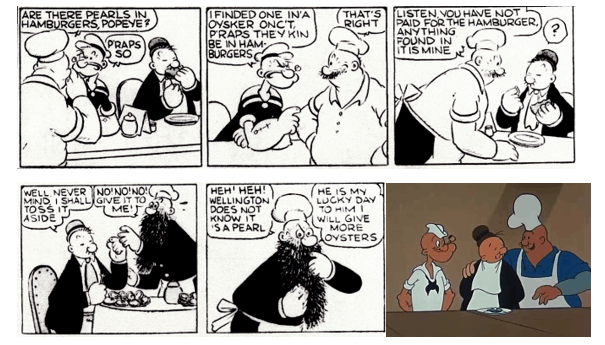 Segar and his successors on the comic strip often devoted an entire Sunday page to Wimpy's humorous efforts to obtain a free meal. No one was safe from his mooching, not even baby Swee'pea.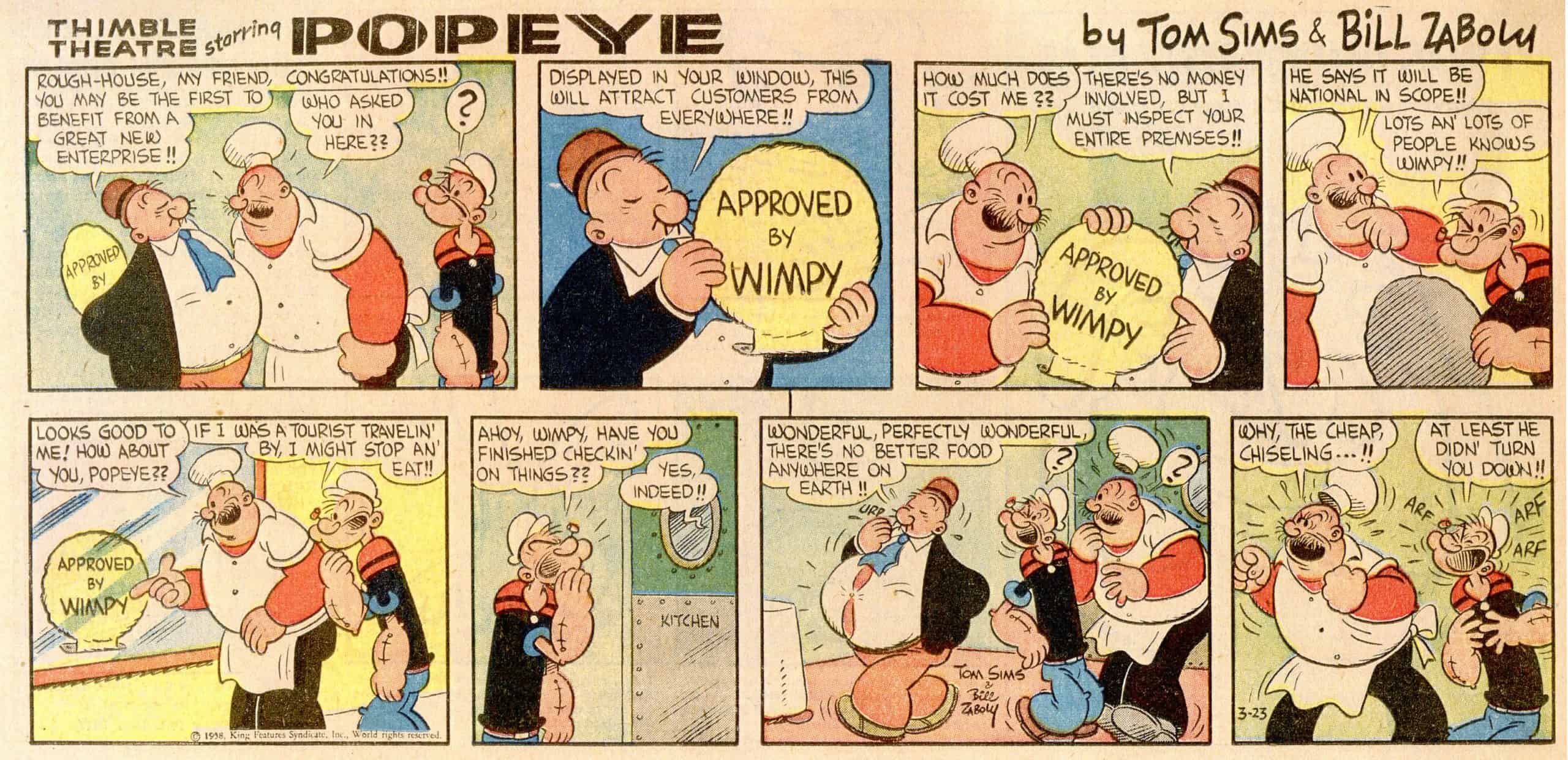 As previously mentioned, Wimpy does have a job as a referee. Unfortunately, when announcing himself in the ring, he is booed, and the crowd hurls objects at him.
Wimpy was based on a real person
It is believed that Wimpy was based upon J. William Schuchert, who hired a young Segar to run the lights in the Opera House located in Chester, Illinois. This job helped Segar pay for a drawing course. In addition, Schuchert would send Segar and other boys who worked for him to around the corner to Wiebusch's to purchase hamburgers between performances. Like Wimpy, he was plump-sized.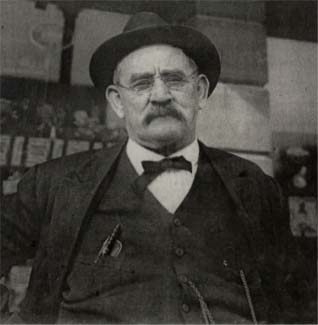 The Wimpy bomber
In London, during World War II, bomber crafts were known as Wellingtons. The Statesman Journal's June 26, 1942, edition reported: "The Wellington bomber got its name from the comic strip character, who is well known to all English soldiers because the Popeye strip appears in the London Daily Mirror and one of the two most widely circulated of English papers among the military forces. Incidentally, J. Wellington Wimpy's consuming passion for hamburgers was responsible before the war for the introduction of and popularization of this typically American food in England."
The Moocher on Film
When the Fleischer Studios decided to produce Popeye the Sailor animated cartoons, naturally, Wimpy was included. He was seen in the first entry in the series titled I Yam What I Yam (1933).
Throughout the cartoon, Wimpy goes after several ducks with knife and fork in hand. Often Wimpy was used as an announcer for various events. He was more prominently featured in the following cartoons from the Fleischer Studios:
Shiver Me Timbers (1934) – Wimpy is frustrated trying to eat haunted hamburgers that exit his mouth when he's trying to consume them.
We Aim to Please (1934) – Wimpy demonstrates to Bluto the art of obtaining a hamburger without the necessary fee.
What … No Spinach (1936) –Wimpy attempts to eat food while working as a waiter in Bluto's diner. Popeye's role is secondary in this film, and Wimpy is spotlighted.
The Organ Grinder's Swing (1937) – Wimpy is an organ grinder with a cute little monkey. Bluto hates the music and attempts to get rid of them both until Popeye comes to the rescue.
The House Builder Upper (1938) – Wimpy is Popeye's bumbling assistant to build Olive Oyl a new house.
Plumbin' Is a Pipe (1938) – Olive calls upon Wimpy, the plumber, for help. He never seems to get inside of her house.
Customers Wanted (1939) – Popeye and Bluto compete for Wimpy's business for their penny arcade business. The freeloader keeps borrowing pennies from Popeye and Bluto to view their films.
Hello, How Am I (1939) – Wimpy impersonates Popeye to obtain a hamburger dinner from Olive Oyl. He ends up smashing Popeye with two chairs and a table. However, Popeye pulls out his spinach and gives the phony sailor a sock. The impersonator is revealed wearing a corset and runs away.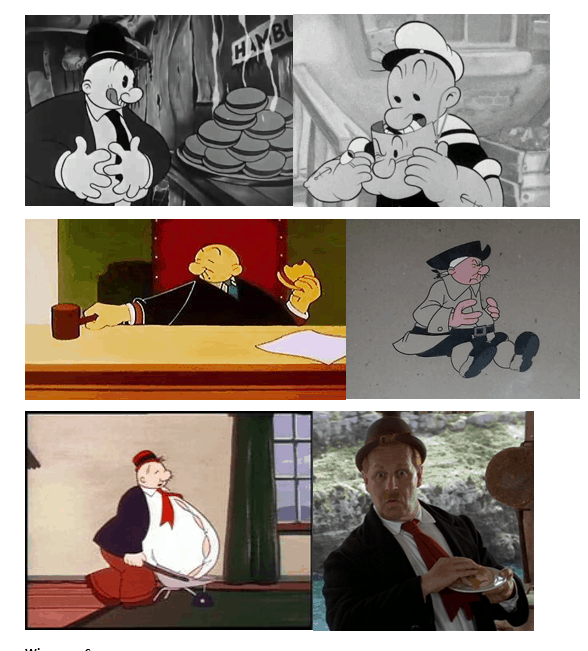 From famine to feast
When Famous Studios (later known as Paramount Cartoon Studios) took over production of the Popeye the Sailor animated series, Wimpy was seldom seen. He appeared in Popeye Makes a Movie (1950) in a non-speaking role; Penny Antics (1955), which was a color remake of 1939's Customers Wanted; and a hamburger-eating judge in Assault and Flattery (1956). His final appearance in a theatrical cartoon was in Spree Lunch (1957). In this cartoon, diner owners Popeye and Bluto compete for business. Of course, Wimpy says, "I'll have a hamburger for which I will gladly pay you Tuesday."
When King Features Syndicate decided to produce Popeye cartoons exclusively for television, Wimpy was seen quite frequently. His memorable films in this television series include:
Crystal Ball Brawl (Larry Harmon, 1960) – Wimpy helps Popeye fight Brutus to stop the bully from stealing a magical crystal ball. It's not often Wimpy is seen in battle.
Egypt Us (Gerald Ray, 1960) – Olive Oyl is in trouble, and Popeye instructs Wimpy to guard their hamburger lunch while he goes off to rescue her. When Popeye and Olive return to eat lunch, they see Wimpy has consumed it all. The moocher sings after the cartoon, "It's bad to be tardy to a hamburger party, says Wimpy the burger man!"
Popeye and The Giant (Jack Kinney, 1960) – Brutus' grow-pills turn Wimpy into a giant! The brute hopes to sell him as a circus attraction.
Hamburger Fishing (Jack Kinney, 1960) – Wimpy captures an enchanted cow to get hamburgers. He lets her go in exchange for three wishes. The Sea Hag captures Wimpy and wants him to wish for gold.
I Yam Wot Yamnesia (Jack Kinney, 1960) – When their heads get bonked, Wimpy assumes Olive's personality and vice-versa.
Rags to Riches to Rags (Paramount Cartoon Studios, 1960) – Wimpy inherits a fortune from his late uncle. He bets it all on a prizefight between Popeye and Kid Nitro. Wimpy rigs the fight in Kid Nitro's favor. However, a teary-eyed Wimpy gives Popeye his spinach as an act of friendship.
Wimpy the Moocher (Paramount Cartoon Studios, 1960) – Wimpy plants a phony pearl in an oyster and cons Rough House into giving him 30 hamburgers.
Duel to the Finish (Paramount Cartoon Studios, 1960) – To make Popeye jealous, Olive Oyl entices Wimpy with hamburgers. So Wimpy and the one-eyed sailor compete in an eating duel.
The Cure (Paramount Cartoon Studios, 1961) – Popeye tries to get Wimpy to give up hamburgers. In an exciting twist, it's Wimpy who eats the spinach and bops the Sea Hag's monstrous goon.
The Wiffle Bird's Revenge (Paramount Cartoon Studios, 1961) – When Wimpy attempts to eat the magical bird, the creature puts a spell on him. Saying the word "hamburger" transforms Wimpy into a werewolf!
Boing, Going, Gone (Paramount Cartoon Studios, 1961) – Brutus is chasing after Wimpy, and hiding from him, puts on vanishing cream. An invisible Wimpy begins assaulting Brutus and eats Rough House's hamburgers right off the grill.
The 1970s and beyond
In 1972 Wimpy, along with several comic strip characters, were featured in the hour-long animated special The Man Who Hated Laughter directed by Hal Seeger. Wimpy steered Popeye's ship – with one hand full of hamburgers, of course. This special aired as part of the ABC Saturday Superstar Movie on Saturday morning.
In 1978 new Popeye cartoons were produced by Hanna-Barbera for the CBS television network. They were aired on Saturday mornings and became one of the network's highest-rated series. Wimpy's role was often that of an announcer or sidekick. Initially, these cartoons were part of The All-New Popeye Hour (1978 to 1981) and The Popeye and Olive Comedy Show (1981 to 1983). Wimpy became a restaurant owner in the animated series Popeye and Son, which aired on the CBS Saturday morning schedule from 1987 to 1988.
Wimpy's voice for the animated cartoons was provided, variously, by Charles Lawrence, Lou Fleischer, Jack Mercer, Daws Butler, and Allan Melvin. Mercer was also the voice of Popeye. When the sailor man and moocher spoke to one another, Mercer was having a conversation with himself.
In 1980 actor, Paul Dooley portrayed J. Wellington Wimpy in the Popeye feature film. Dooley recalled the meat they used for the hamburgers he had to eat wasn't very good. It was imported from Germany, and if he took too many bites, take after take, he would get sick. So instead, he had the prop people make a fake latex rubber hamburger that looked like it had lettuce, tomato, sesame seeds, and meat. It looked like there was one bite missing at the beginning of each take.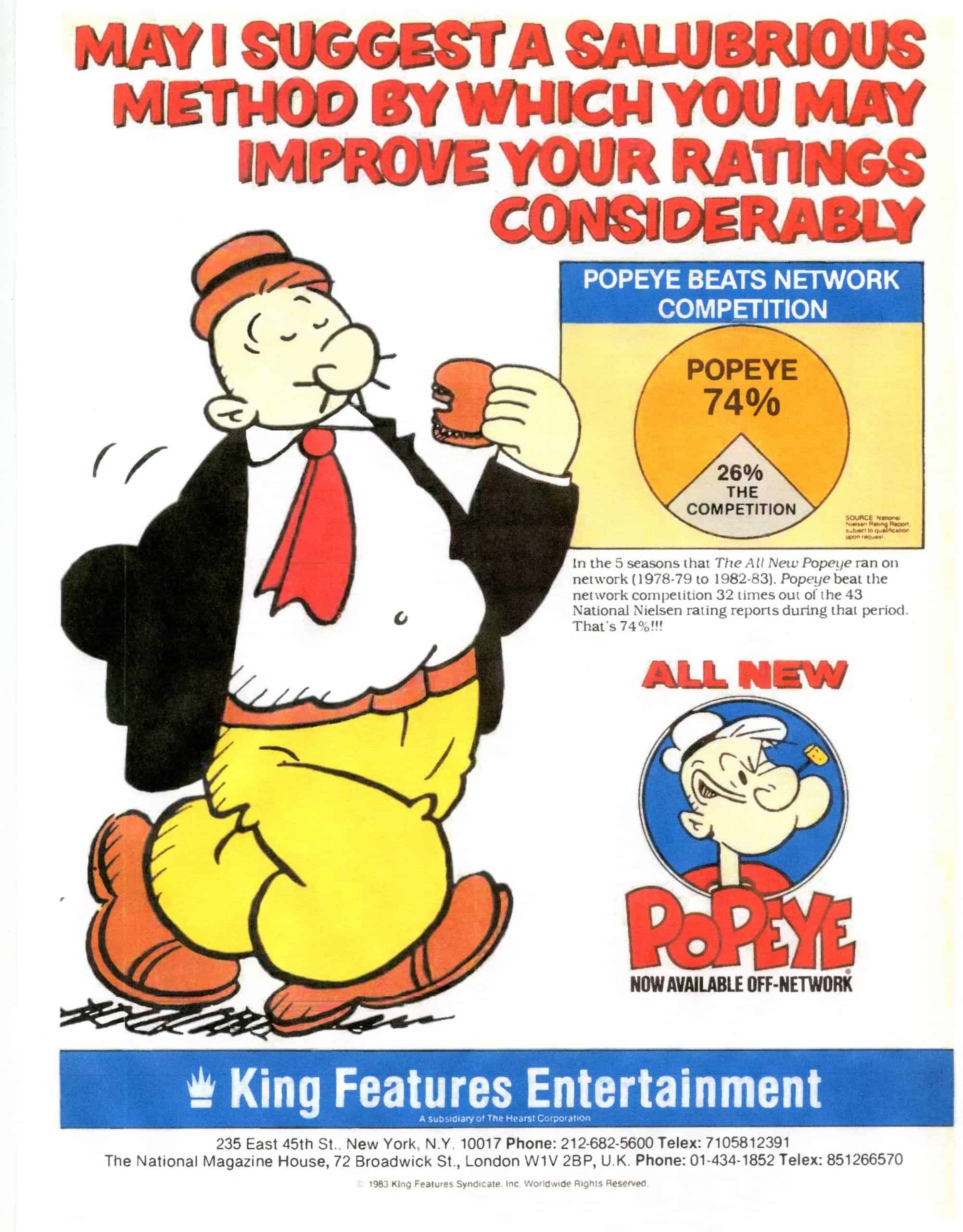 Merchandise and other media
J. Wellington Wimpy, along with the rest of the Thimble Theatre cast, has been utilized in all sorts of merchandise. These include comic books, dolls, board games, playing cards, utensil holders, color forms, hand puppets, T-shirts, hats, golf balls, action figures, puzzles, and books.
Some notable collectibles are Wimpy, The Hamburger Eater Big Little Book (Whitman,1938); Wimpy, What's Good to Eat board book illustrated by George Wildman and written by Bill Pearson (Tuffy, 1980); Wimpy, Where Are My Hamburgers? boardgame (Hasbro,1965); and a plush doll by Presents (1985).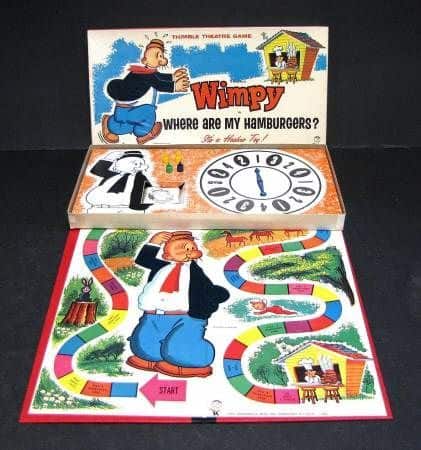 Wimpy has appeared in animated television commercials for Carl's Jr, Burger King, and Bank of America.
In honor of Wimpy's 90th birthday, let's toast him! With a hamburger, of course, which you will gladly pay for, Tuesday.
Entertainment historian Fred Grandinetti has been writing about Popeye since 1983 in numerous magazines, newspapers, and websites. Besides 'Wimpy Celebrates 90 Years of Hamburgers,' he has written several articles for Boomer on Popeye and his pals, notably 'Popeye, the Wandering One-eyed Sailor,' 'Happy 90th Birthday, Popeye,' and 'What Is Popeye's Archenemy's Name?' Grandinetti also produces the award-winning cable access series, 'Drawing with Fred,' for Massachusetts cable-access television. 
Wimpy Celebrates 90 years of Hamburgers, with Boomer!