Dinner with a Water View
| April 14th, 2022
Three waterfront destinations within an easy drive of Richmond, Virginia
---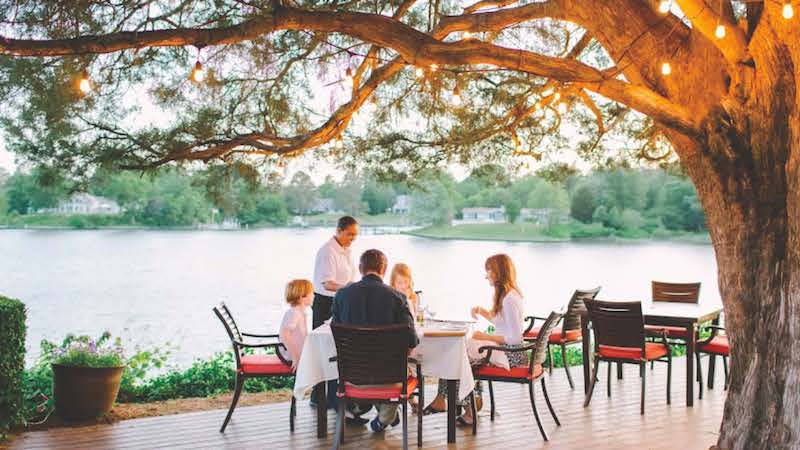 Last week, I shared some of my favorite beach town restaurants. Whether you're at the beach or not, dining on the waterfront is always a pleasure. Today, I'm going to share three of my favorite waterfront dining destinations, all within a couple hours drive of metro Richmond.
---
Another trio of restaurants near RVA, in the Barbecue Triangle
---
A triangular trip of dining with a water view
Irvington, Virginia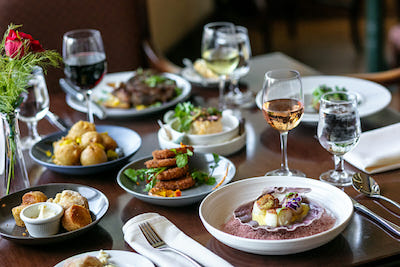 If it's fine dining in a casual, yet elegant, atmosphere that you seek, you'll find it at the Tides Inn's Chesapeake Restaurant in Irvington (480 King Carter Drive). Whether you're planning a romantic getaway or a family vacation on the water, there's a lot for everyone to enjoy at the beautiful Tides Inn.
But even if you're just looking for a fabulous dining experience with beautiful water views in a refined setting, head east to the Tides Inn's Chesapeake Restaurant. The creativity and goodness of the food combine with first-class service to make for a memorable dining experience.
Just take a peek at the seasonal coastal menu. You may want to start your meal with the baked Rappahannock oysters. Choices of entrées include the Northern Neck Shrimp and Grits, one of the most popular dishes. Rockfish, scallops, NY strip, and filet mignon are also on the menu, but, for me, I can't stay away from the crab cakes.
You can dine indoors, but it's much more fun to sit outdoors alongside Carter's Creek, a tributary of the Chesapeake Bay. If you're one who enjoys lingering over a meal and enjoying the beautiful views, including the eyes of your significant other, you're going to fall in love with the Chesapeake Restaurant.
Norfolk, Virginia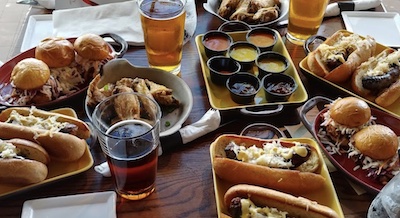 Technically, The Main Hotel at the Hilton (100 E. Main Street) in a new, vibrant, and revived Norfolk is not right on the waterfront. But if you're sitting on the outdoor patio in the restaurant's fifth floor Grain restaurant, you're definitely close enough to see the Elizabeth River, which runs through downtown. If you haven't visited Norfolk in the last dozen years or so, you're missing out on one of the coolest, most cosmopolitan cities on the East Coast. The Main is not simply a grand hotel, it's a virtual museum filled with beautiful works of art, including a replication of one of Escher's stairwells.
But let's talk about Grain, Norfolk's only rooftop beer garden. In good weather, when they open the double garage doors that lead to the patio, you can enjoy the warm breezes off the river and take in the beautiful views. With palm trees, great lighting, and a fire pit, you'll feel as if you're dining in a private garden.
Grain offers a limited menu, and this is not the place to go for seafood. If it's seafood you've come for, visit Saltine on the ground floor of the hotel.
However, for a true beer garden experience (more than 40 taps) along with bar food and burgers, I don't think there's anywhere in town that you're going to enjoy more than Grain.
Hopewell, Virginia
Let's finish up closer to my home base in Richmond. You may remember the old Dockside Restaurant, which sat on the southern end of the Benjamin Harrison Bridge for many years. Well, the Dockside is gone, but in its place is Holy Mackerel  (700 Jordan Point Road).
I visited there recently and found it to be one of the coolest waterfront spots that I have discovered in the general Richmond area. There's nothing too pretentious about Holy Mackerel," says Emily Casey, manager at this restaurant-with-a-brewery-connection.
Emily explains that the restaurant was brought to Richmond by Florida brewer Bob Gordash. Last summer, in order to capitalize on the local dynamic craft brew market, Bob purchased the old and vacant Dockside Restaurant and opened Holy Mackerel.
The brewer is working with Virginia ABC to get licensing to open a brewery in Hopewell. But even now, one can enjoy a variety of Holy Mackerel beers from the Florida-based brewery as well as guest taps.
The atmosphere and the menu are quite casual, featuring such entrees as the fried shrimp basket, crab cake sandwich, and jumbo wings. Brunch is served both Saturday and Sunday from 11 to 4 and offers crab cake benedict, the Holy Hangover Burger, and a Western omelet.
If, on one of those lazy spring or summer afternoons, you find yourself longing to sit by the river and enjoy an inviting Happy Hour, you may find yourself saying, "Holy Mackerel, I know just where to go."