Have a Big Time in Farmville
| July 26th, 2019
The low-down on a small town
---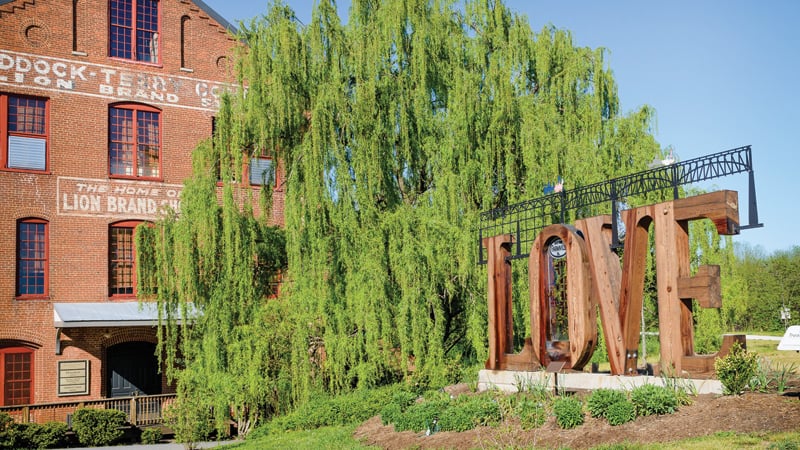 The town's quiet Main Street charm seems to both support and contradict the "Farmville" moniker. The vibe is laid-back and rural; old brick warehouses recall the Industrial Revolution; and small shops whisper "small-town U.S.A." But step inside to discover products and dining far from Petticoat Junction.
GET HIGH BROW
Longwood University, in the heart of Farmville, adds a dose of culture to the town.
Pieces to please the mind's eye are on view at the Longwood Center for the Visual Arts. The galleries present changing exhibitions, pieces from its permanent collection, art films and educational programs. Recent exhibitions and collections include American Folk Art Buildings, textiles and Eva O'Leary's thought-provoking "Spitting Image."
THE LOW-DOWN ON HISTORY
With more than 220 years of history under its belt, Farmville can boast of historic stately structures, including homes, churches and businesses as well as features on the Longwood campus. Stroll through downtown neighborhoods to admire 19th-century homes, from the Federalist era to the Victorian.
Not all of the area's history is admirable, though. Six decades ago, Prince Edward County (of which Farmville serves as county seat) still held fast to "separate but equal education," though facilities and supplies for black students were objectively unequal. In 1951, black students marched against the inferior conditions. The act gained national attention, and the case become part of the 1959 Brown v Board of Education ruling that declared segregation unconstitutional. Not ready to relent, the county closed public schools rather than integrate them – part of Virginia's "Massive Resistance" policy. For five years, black students were denied public education.
The Robert Russa Moton Museum examines this story through chronological exhibits that examine the words and deeds of both sides of the struggle.
DIG DOWN DEEP IN YOUR POCKET
Besides the town's scattered antique stores and boutiques, Farmville is home to an expansive home furnishings store. If you haven't been to Green Front Furniture, you owe it to your home and yard to pay it a visit. The family owners cultivate relationships with suppliers around the world, skipping the middle man (to save customers money) and building an inventory of diverse styles and price points.
Rugs, furniture and accessories sprawl across approximately one million square feet in 13 buildings (in historic tobacco warehouses and old department stores, so the setting is as appealing as the furnishings). I'm not a big spender on home décor, but I came away with a unique side table and loveseat, both made from teak root (at a price I couldn't pass up).
---
Seeking other travel spots? Grab a map and plan out a trip to…
---
TREK ALONG HIGH BRIDGE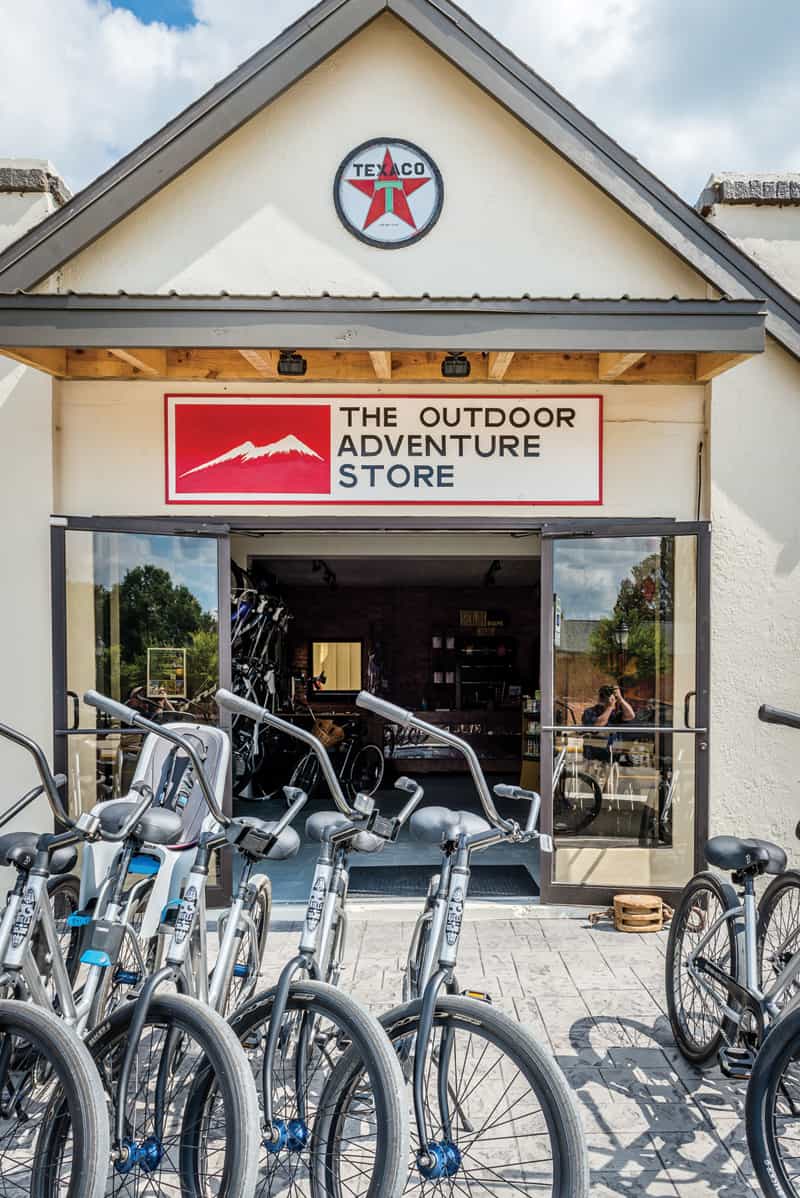 Originally known as "the Farmlands," Farmville is still surrounded by plenty of scenic rural countryside.
Railroads pulled out as automobiles and trucks met transportation needs, but 31 miles of track have been repurposed as the High Bridge Trail, passing through downtown Farmville. The mostly flat crushed limestone surface welcomes bikers, horseback riders and pedestrians of all speeds. The centerpiece of High Bridge Trail State Park is (wait for it …) High Bridge, more than 2,400 feet long and rising 125 feet above the Appomattox River. Single-track trails beside the main trail offer an alternative for mountain bikers or trail runners.
If you don't BYOB (bicycle), Outdoor Adventure Store, just a few steps (or pedals) from High Bridge Trail, offers rentals, including electric trikes with pedal assist, plus repairs, new bicycles and accessories. TheOutdoorAdventureStore.com
Outdoor enthusiasts will also appreciate Appomattox River Company, which is awash with paddle-sports of all sorts: fishing, pedal, whitewater, touring and kids kayaks; canoes; stand-up paddle boards and pedal SUPs; and much more. PaddleVA.com
Other outdoor adventures await nearby, at the Sandy River Outdoor Adventure Park (SandyRiverOutdoorAdventures.com), lakes and rivers for fishing and paddling and several state parks and forests (DCR.virginia.gov and DOF.virginia.gov).
FILL UP YOUR TANK
Food and drink establishments reflect the town's diversity, such as nostalgic Walker's Diner, long-time favorite Charley's Waterfront Café and multiple options at Weyanoke Hotel (more on those below). Three of my favorites:
One19. "Tastefully off-center" and delightfully surprising, One19 serves creative Southwestern and Tex-Mex-influenced food, craft cocktails and a big-city tequila/mezcal selection. TastefullyOffCenter.com
The Virginia Tasting Cellar. This distinctive classic-rustic tasting room pours multiple Virginia wines (each winery with its own counter) plus Virginia ciders and beers. Post-tasting, you can sip and sup in the tasting room or on the riverside patio or purchase to-go. TheVATastingCellar.com
Third Street Brewing. In a historic brick warehouse, the taproom welcomes a diversity of clientele with a welcoming spirit and a range of beers. Enjoy the brews inside or on the patio by High Bridge Trail. ThirdStBrewing.com
HOME BASE TO GEAR UP & WIND DOWN
The lodging host for my Farmville trip, Hotel Weyanoke, provided a convenient hub for exploring the walkable downtown.
In a restored 1920s brick building, the boutique hotel presents modern opulence with a historic nod and attention to detail in service and décor. The renovation maintained original building elements, such as tin ceilings and trim work, and added carefully curated furnishings in mid-century modern and retro stylings. Fine touches in each guestroom include locally crafted water tumblers and coffee mugs, Virginia-inspired art and lap boards. HotelWeyanoke.com
Four distinct dining options (all with vegan and vegetarian options) will carry you through a Farmville day:
Start at Sassafras with morning pastries or light lunch.
Head to High Bridge Trail and work up an appetite.
Lunch at Effingham for wood-fire-oven pizzas, salads and hearty sandwiches, paired with Virginia craft beer from Ballad Brewing.
Go shopping.
Freshen up in your room and head downstairs to Campagna, where elegant décor blends with the rustic basement bones. Campagna elevates your dinner with Italian cuisine and steaks.
Then head up to Catbird Rooftop Terrace for handcrafted cocktails, wine, beer and treetop views.
And return to your room for a restful night's sleep.