'It's That One-Eyed Sailor Again!'
| October 5th, 2022
Ninety years of Bluto – or is it Brutus?
---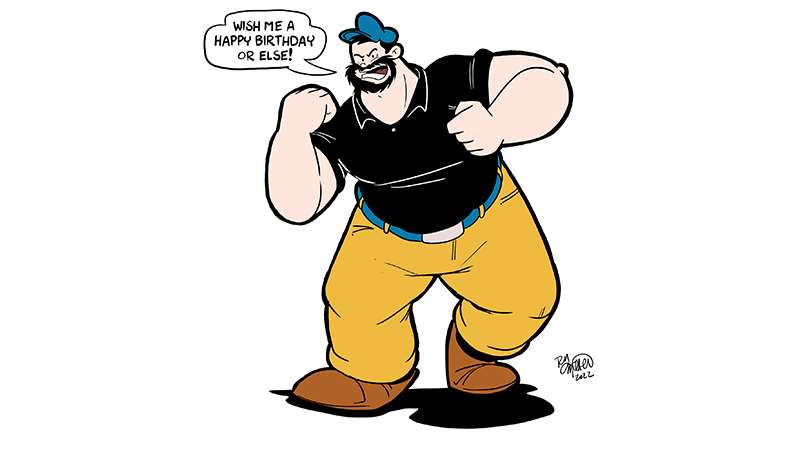 If you watched any Popeye cartoon and heard an instrumental version of "Blow the Man Down," this usually meant Bluto would soon make the scene.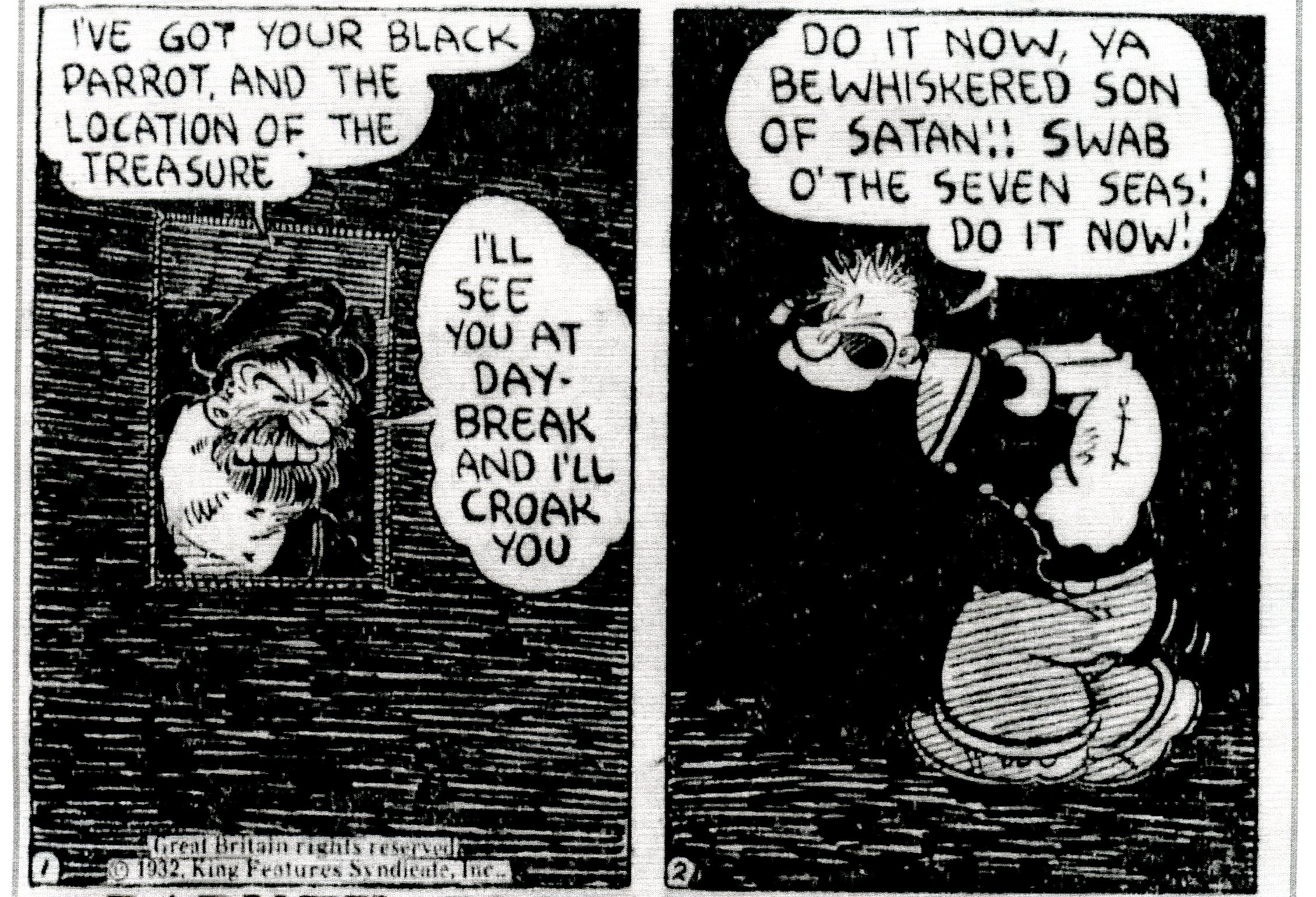 In 2022 Bluto celebrates his 90th birthday, having first appeared in E.C. Segar's Thimble Theatre comic strip in 1932. His debut story was called The Eighth Sea, and he was originally a bloodthirsty beast who wanted to kill Popeye the Sailor. He also did not harbor any love for Popeye's girlfriend, Olive Oyl. The initial fist fight between Popeye and Bluto went on for weeks in Segar's daily comic strip. The one-eyed sailor defeated him by using his "twisker" sock. Humiliated, Bluto left the Thimble Theatre comic strip under Segar's tenure.
Animation and merchandise join the strip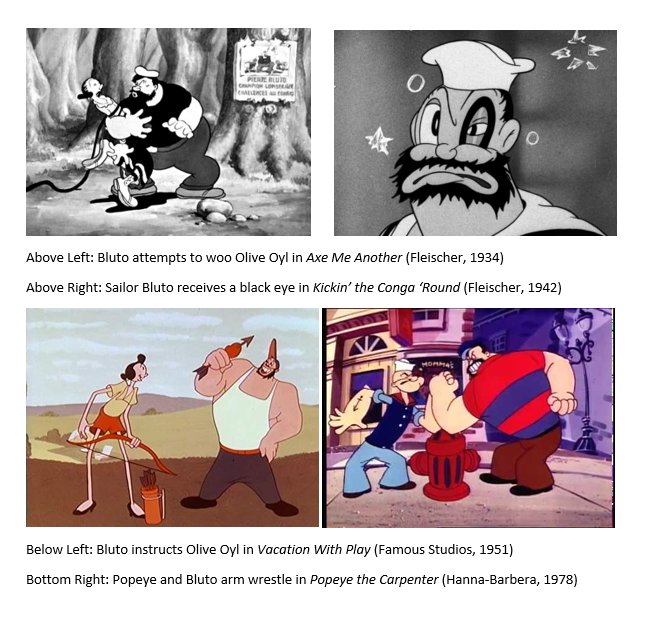 In 1933 Fleischer Studios put Popeye, Olive Oyl, and Bluto in one of their Betty Boop animated cartoons. The film, titled Popeye the Sailor, was a huge success, and Bluto became a regular cast member. On film, he was portrayed as a rotund bearded bully who courted Olive Oyl and beat up Popeye. He wore a captain's hat and short-sleeved black shirt. He also had squinty eyes. By the early 1940s Bluto, like Popeye, had officially joined the Navy, and both wore white sailor's uniforms. When Famous Studios took over production of the animated cartoons, he became muscular in appearance and his attempts to woo Olive Oyl more frequent.
In September of 1956 the Fleischer/Famous Popeye cartoons made their debut on television. They were a tremendous hit and Bluto became very popular among children.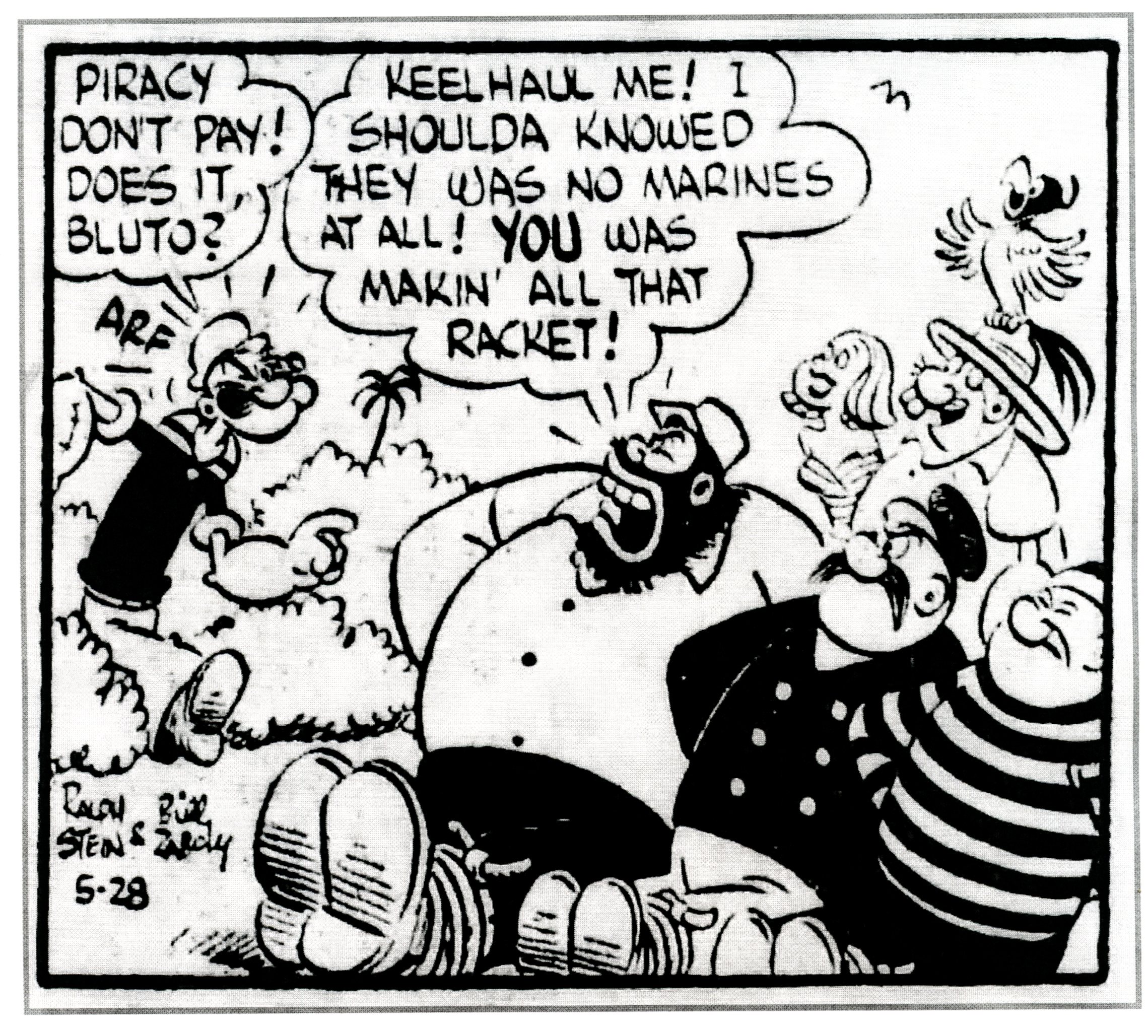 Ralph Stein, who was now writing Thimble Theatre, put Bluto back in the daily comic strip in 1957 as a scheming pirate who kept encountering Popeye and his traveling companion, Sir Pomeroy Vauxhall. In 1959 Bluto's beardless twin brother, Burlo, made his debut in the dailies.
---
How the Popeye strip changed over the years, 1954-1959
---
Bluto appeared on Popeye-related products during this period. These items included:
A Colorforms cartoon kit
Color and re-color book
Toy automobile figure
Coloring books
Board game
Muscle builder, strength tester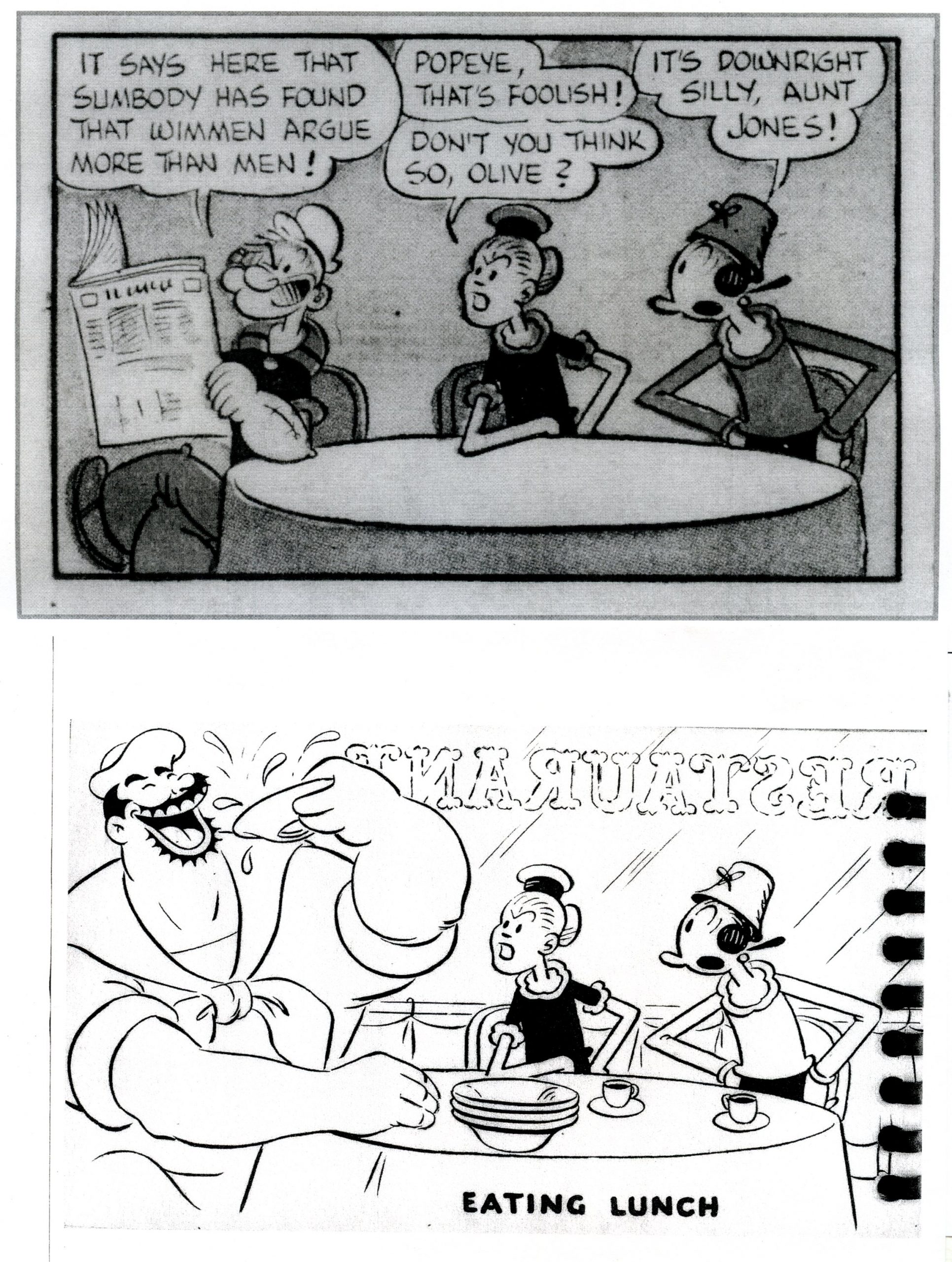 Paramount Pictures, who financed the theatrical Popeye cartoon series, were under the mistaken impression they created Bluto for animation. King Features Syndicate, who distributed the comic strip, did not challenge this. Consequently, on additional merchandise he became known as The Mean Man.
---
Those 'Quickie' Popeye Television Cartoons
---
Bluto clones and variations – including Brutus
When Bud Sagendorf assumed control of the Popeye daily and Sunday comic strip in 1958 (though his work was not published until 1959), several unidentified Bluto-looking brutes appeared. In Sagendorf's comic book stories, Popeye faced bearded nemeses called The Big Guy That Hates Popeye, Swab, and Sonny Boy. Sonny Boy was the son of Popeye's number one enemy, the wicked Sea Hag. On occasion Sagendorf gave these brutes a sailor's hat to wear. This might have been his attempt to have children believe it was the same Bluto viewed on television.

New color Popeye cartoons, produced specifically for television from 1960 to early 1962, had Brutus menacing the spinach-eating sailor. Brutus resembled Bluto except his stomach protruded, but he still had his eye on Olive Oyl. Eventually the name Brutus was picked up in the comic strip, funny books, and merchandise.
In 1978 Hanna-Barbera produced The All-New Popeye Hour (later called The Popeye and Olive Comedy Show) for Saturday mornings. The series was an immediate success and ran on the CBS network until 1983. Popeye's rival for the affection of Olive Oyl was back to being called Bluto. For these new cartoons he wore a short-sleeved red shirt with stripes, a blue sailor's cap, and brown pants.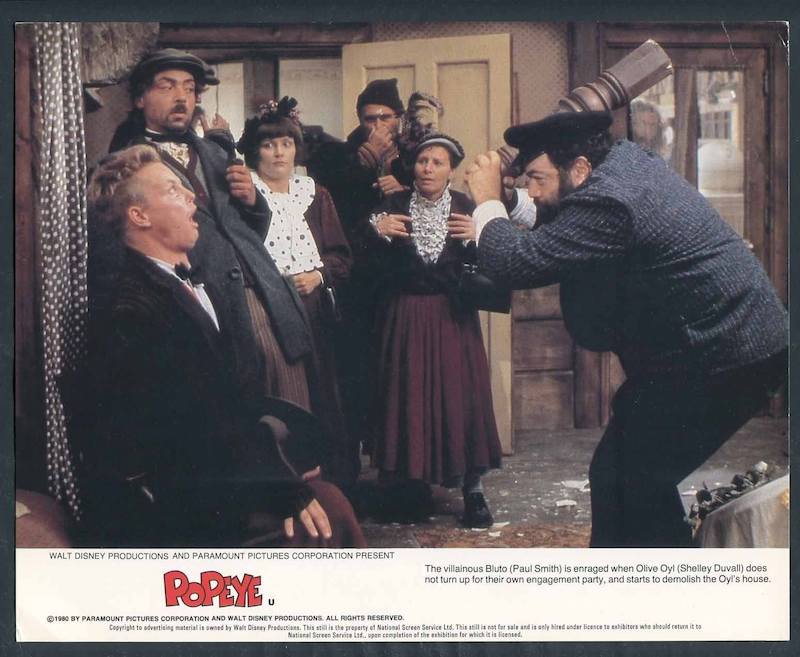 Because the Hanna-Barbera series was broadcast on network television, Bluto's penchant for physical violence was eliminated. Instead, he used a lot of dirty tricks on Popeye and his crew. This name was also used in the 1980 Popeye feature film where actor Paul L. Smith portrayed the menacing bully. Despite reports the film was a flop at the box office, it actually did make money and eventually became popular on video and DVD. Merchandise, produced around the time the movie was released, utilized the name Bluto rather than Brutus. However, Bud Sagendorf's design of Brutus was used on these items.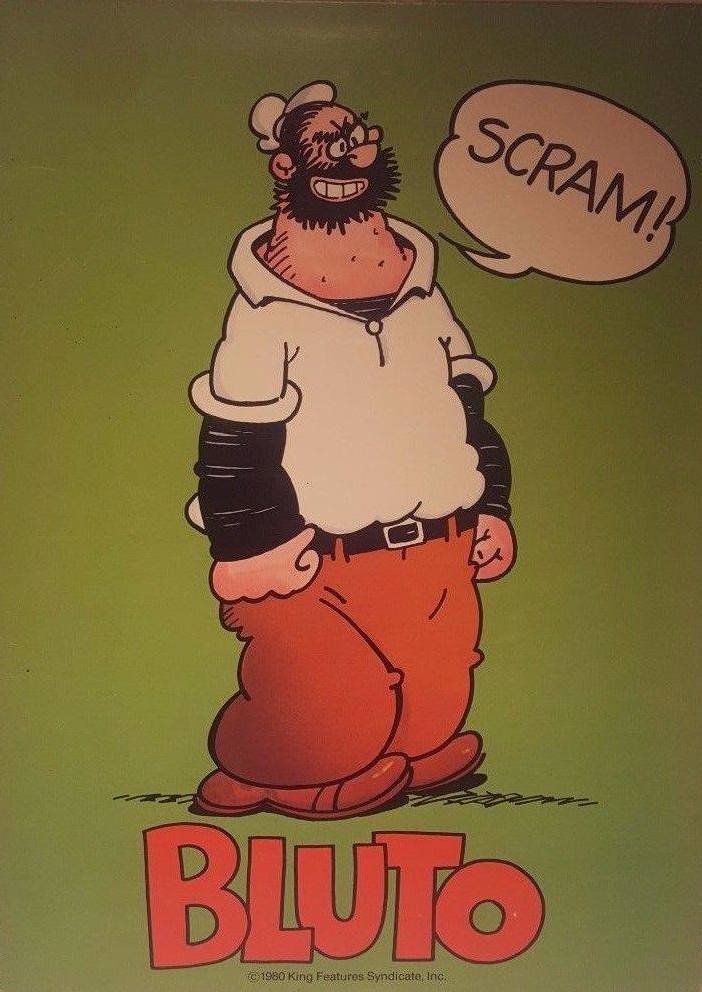 In 1987 Hanna Barbera tried again with Popeye and Son, but this series, featuring the one-eyed sailor and Olive as a married couple, only ran for one year. Bluto was wed to Lizzie, and they had a mean- spirited son named Tank who menaced Junior. Junior, who did not resemble either of his parents, was the offspring of Popeye and Olive Oyl. In 2004 a CGI design of Bluto was produced for the special, Popeye's Voyage: The Quest for Pappy. The program aired on the Fox Network in December of 2004 and 2005. Bluto was portrayed as a friendlier shipmate of Popeye.
Brunches of Brutuses
In 1991 Bobby London was producing the Popeye daily comic strip and brought back the version of Bluto who was beaten up in 1932. He is furious the town was filled with bearded brutes imitating him and calling themselves Brutus. In this humorous story, London drew nearly every incarnation of Popeye's foe. At the conclusion of the story, the bearded brute was, again, defeated by Popeye.

Veteran cartoonist Hy Eisman had Brutus become the twin brother of Bluto while he was producing the Sunday strip. This idea was initiated in a one-shot comic book story published by Ocean Comics in 1988 called Double Trouble Down Under.
For years readers wrote to the question-and-answer columns in newspapers asking the name of the bully who fought Popeye. Since the 1990s the Fleischer Studios design of Bluto was used on products but called Brutus. However, this has changed in recent times, and he is now known as Bluto.
Cartoonist Randy Milholland draws the Popeye Sunday page each week and has carried on the brotherly relationship between Bluto and Brutus. Milholland's Sunday pages can be viewed by going to ComicsKingdom.com/Popeye.
Gus Wickie, Pinto Colvig, Dave Barry, Jackson Beck, and Allan Melvin were the more memorable voices of Bluto in the animated cartoon series. Both Wickie and Beck not only provided Bluto's hearty laugh but, on occasion, had the opportunity to sing while voicing the character.
Despite the changes in his character's design and name, Bluto remains one of the most popular villains in popular culture – not only in the United States, but all over the world.
Happy birthday, Bluto, and perhaps Olive Oyl will allow you to kiss her on this occasion. Just make sure Popeye is nowhere in sight.
---
CAPTION OF FEATURE IMAGE, TOP: A drawing of Bluto by Randy Milholland, the Popeye Sunday cartoonist, especially for Boomer Magazine.
---
Entertainment historian Fred Grandinetti has been writing about Popeye since 1983 in numerous magazines, newspapers and websites. Grandinetti also produces the award-winning cable access series, Drawing with Fred, for Massachusetts cable-access television. For more, visit his Drawing with Fred on Facebook.