Greg Schwem, Humor Hotel: "I'll take Chances for $400"
| March 12th, 2021
Questions (and answers) new 'Jeopardy!' hosts don't want to hear
---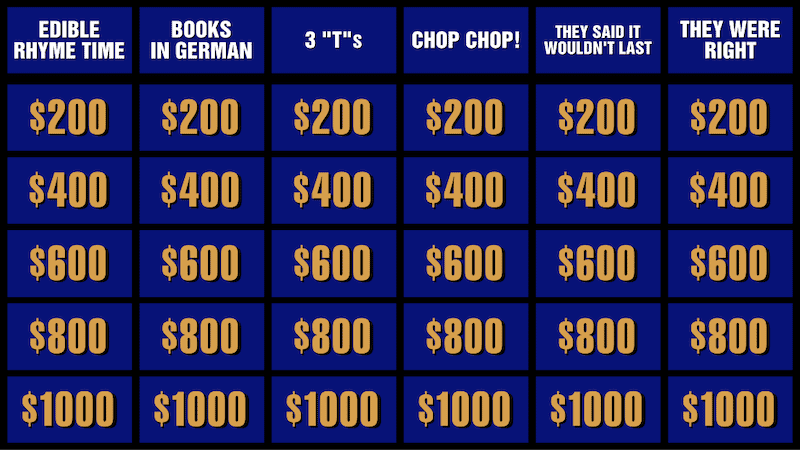 Back in 2018, when he was happily cancer free, the late "Jeopardy!" host Alex Trebek announced he was pondering retirement. Immediately I began polishing my resume.
In an earlier column, I pleaded with executives at Sony Pictures Television, distributors of the popular quiz show, to consider an unknown host for the role. Specifically, me. Someone whose updated LinkedIn profile would include "Unbridled passion for a game that involves more than 'buying an o.'"
The television world hasn't hired an unrecognizable face for such a high-profile assignment since 1993, when NBC announced some Harvard kid named Conan O'Brien would take over for David Letterman, after the latter moved to CBS. O'Brien eventually found his stride; true his late-night show (now on TBS) will be ending in June, but 28 years is pretty remarkable for a guy previously known for writing "The Simpsons" dialogue.
Trebek bravely hosted "Jeopardy!" until just 10 days before his death. All-time "Jeopardy!" champion Ken Jennings was tapped as the first replacement, performing admirably amid intense speculation that he would eventually be elevated to permanent host. But the creative minds at Sony have other plans.
For now, anyway, they have taken the easy and overdone-to-death route: Hiring a revolving cast of celebrities because, gosh, the public is hankering to see more of Anderson Cooper. Or Green Bay Packers quarterback Aaron Rodgers. Or "Today" show co-host Savannah Guthrie. Or TV doctor Mehmet Oz. All four have been promised tryouts, according to published reports.
True, celebrities love "Jeopardy!" They also love to brag on social media when the game includes them. A simple Twitter search yielded celebs like Billy Eichner taking a screenshot of the "Jeopardy!" board and gushing, "Oh my God I was a clue on JEOPARDY today!!! WHAT IS… AMERICAN HORROR STORY!!! I'm freaking out!!!"
Whoa, Billy. Dial it back a few exclamation points.
A crystal ball: The risks of Jeopardy celebrity guest hosts
I'm not saying the upcoming hosts would be reading clues about themselves during their stints, but, in the event a columnist/comedian, disgruntled about being passed over for Trebek's job, was to get a job as a WRITER on the show, then "Jeopardy!" viewers can expect to see the following scenarios playing out in upcoming episodes:
"Hi, I'm Anderson Cooper. Let's play 'Jeopardy!' Our returning champion picks first."
"Anderson, I'll take Media for $400."
"The answer is: 'This major cable operation was often referred to as 'fake news' by the Trump administration.'"
"What is CNN?"
"That is correct. Well, it's not really correct. I mean, we're not fake news. You want fake news? Head over to Fox. That's where's you'll see some…"
"Anderson, I'll take Inebriated New Year's Eve Hosts for $600."
"I'm not reading that one."
NEXT WEEK
"Hello, 'Jeopardy!' fans. I'm Aaron Rodgers. Let's kick off 'Jeopardy!'"
"Thanks Aaron. I'll take Famous Fans for $800."
"The answer is: 'Against an over-the-hill Tom Brady, these fans braved icy temperatures to watch their team inexplicably kick a field goal on a crucial fourth down, costing them a trip to Super Bowl 55.'"
"Who are Cheeseheads?"
"Yeah, that's right. And it wasn't even that cold. And, yes, it was a stupid call. I could have hit Davante Adams easily!"
NEXT WEEK
"Hello, I'm Savannah Guthrie. Wake up to 'Jeopardy!'"
"Thanks, Savannah. I'll take Rhyme Time for $400."
"The answer is: 'The married name of a TV host if she wedded a famous Star Wars character.'"
"Who is Hoda Yoda?"
"Correct. Can we take a break? I feel an uncontrollable bout of laughter coming on."
NEXT WEEK
"Greetings, 'Jeopardy!' fans. I'm Dr. Mehmet Oz. Let's feel better with 'Jeopardy!'"
"Thanks, Doctor. I'll take Fables for $1,000"
"The answer is: 'This doctor occasionally spouts debunked medical theories, including that hydroxychloroquine cures COVID-19.'"
"You."
"Phrase it as a question please."
"Who are you?"
"Correct. And more research needs to be done. Just don't drink bleach."
Sony higher-ups, if you don't want these potentially embarrassing moments to be a part of the show, my offer to host still stands. You know where to find me.
I follow @Jeopardy on Twitter.
---
Greg Schwem is a corporate stand-up comedian and author of two books: Text Me If You're Breathing: Observations, Frustrations and Life Lessons From a Low-Tech Dad and the recently released The Road To Success Goes Through the Salad Bar: A Pile of BS From a Corporate Comedian, available at Amazon.com. Visit Greg on the web at www.gregschwem.com.
© 2021 Greg Schwem. Distributed by Tribune Content Agency, LLC.

---
Like laughing at the potential risks of Jeopardy celebrity guest hosts?
Check out other Boomer articles on laughter or the baby boomer humor of Randy Fitzgerald.
---
As an Amazon Associate, Boomer Magazine earns from qualifying purchases of linked books and other products.