Sam Miller's Restaurant: Shockoe Slip into Something Comfortable
| February 10th, 2022
Plus Happy Hour and bonus crab cake recipe
---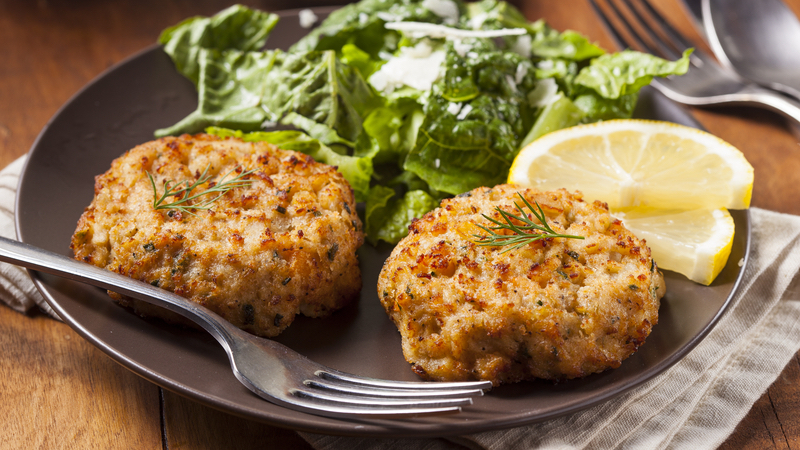 Richmond food and travel writer Steve Cook takes readers to another classic restaurant in Richmond, Virginia: Sam Miller's Oyster Bar and Seafood Restaurant … yes, seafood, plus hand-cut steaks, French onion soup, and so much more. All in a warm, cozy setting.
---
First, a confession. I'm not really the romantic type. Valentine's day is just another day for me. Although the day after Valentine's is special because it means half-price candy.
However, my hard heart is not so cold that a delightful meal in a warm, cozy setting with my wife doesn't appeal to me. It does, and I don't care what time of year it is.
So, where do you go for a romantic night out? Surely, Metro Richmond offers many options, but because I am so enthralled with Richmond's history, one of my favorite romantic restaurants is in the very historic Shockoe Slip. I'm talking about Sam Miller's restaurant at 1210 E. Cary St., and I would find it a romantic dining spot even if they didn't specialize in oysters.
Sam Miller's has been a Richmond favorite since the early '70s when what had become a warehouse/industrial community over the previous 50 years began an amazing transformation to the lovely, lively dining and entertainment neighborhood that it is today. It was very early in that transformation era, 1971, in fact, that Sam Miller's opened its doors. Just a little historical side note, the name is derived from Sam Miller's Exchange Café, which opened in 1901 at 1301 E. Cary St, just diagonally across the street from today's restaurant.
Shortly after Sam Miller's opened, it was purchased by Thomas Leppert, who not only successfully ran this restaurant for nearly half a century, but was instrumental in the overall re-development of the entire neighborhood. Leppert passed away this past October, but the restaurant has continued to operate under the guidance of GM Ken Wall.
Ken is one of the coolest guys I know, and though he hails from the Raleigh area, he is the go-to guy when you want to know anything about Richmond's restaurant history.
Back to the romantic present at Sam Miller's
The atmosphere and the décor at Sam Miller's is refined, not stuffy or ostentatious, but dignified and downright historic. The subdued lighting, dark antique bar, and the interior brick walls all serve to create that romantic atmosphere.
I was visiting with Ken the other day – he's also my go-to guy when I'm in want of a perfect martini. Ken mentioned that he has some big plans for Valentine's weekend with a prix fix meal being offered this Friday, Saturday, and Monday (Feb. 11, 12, and 14). The restaurant is closed on Sundays.
The food at Sam Miller's is always delicious, especially the oysters, crab cakes, and their hand-cut steaks. And with this special menu being the only one offered over this coming weekend, you'll have an excellent opportunity to enjoy the best that Sam Miller's has to offer.
It's a three-course meal priced at $65 per person. My guess is that you and your significant other will want to choose different options for each course and then you can taste from each other's plate. That sounds rather romantic in itself, don't you think? I've never tried to replicate the spaghetti scene from Disney's Lady and the Tramp, but maybe one day.
Sam Miller's is famous for its oysters, and one of the appetizer choices for the first course is the Oyster Trio, consisting of one on the half shell, one Oyster Rockefeller and one Sam Miller's Oyster topped with bacon and breadcrumbs.
Sounds good, but I'm torn between two other choices: the lump crab and Sam Miller's Famous Crab Soup. However, Ken tempted me by telling me that the French onion soup is a classic. "It reminds me of the Butlery," Ken said, recalling local restaurateur Don Bleau's very popular early-'80s restaurant on River Road.
Moving on to the second course, I'm again in a quandary as to what I will order. It almost has to be the lump crab cake. Ken said that the secret to the success of this dish is the fact that there is no filler. In fact, he even gave me the recipe, which I'm posting below.
I can't decide between the crab cake and the huge, delicious rockfish, which is served in a Champagne lemon butter sauce. Of course, there's also the eight-ounce filet, which is always done to perfection, and there's a scrumptious Southern Chicken Cordon Blue on the menu, too.
Going into a food coma is not all that romantic, but I'm going to chance it and have one of the tempting desserts to finish up my meal. The menu will be offering three.
"All of our desserts come from Poor Georgie's Bake Shoppe. We're the only restaurant in town to carry his desserts," Ken said, adding that everything Poor Georgie makes is fantastic. The first option is a Dutch Cocoa Cake, which Ken said is "chocolate on chocolate on chocolate on chocolate." Wow, he had me at "chocolate."
The second option is the Strawberry Letter Cake, for those who like their desserts on the extra sweet side.
But the one that I'll be trying is Poor Georgie's key lime pie. Ken said, "I'm not typically a huge key lime pie guy, but I could eat Poor Georgie's every day. The difference in his key lime is that instead of a graham cracker crust, he uses ginger snaps. There's a little extra kick to it.
Georgie doesn't have a brick and mortar, yet, but he can be found at several local farmers' markets. He also delivers his wares. Check his website for more information.
Most everything on the special weekend menu is generally available on the dinner menu. So, whenever you're in the mood for a romantic date night, an evening at Sam Miller's in historic Shockoe Slip is a wonderful option. Take it from a nonromantic.
Romantic and Happy … Hour
Sam MIller's also offers a pretty decent Happy Hour, Monday through Saturday from 3 to 7 p.m.
Drinks
Drafts – $2 off
Wine, house – $5
Liquor, well – $5
Food
Oysters on the half shell – $1.75
Old Bay chips – $3
Pimento cheese dip – $8 (served with crackers)
Cheeseburger sliders – $8
Fried calamari – $8
Fresh pork rinds – $3
Sam Miller's Crab Cake Recipe
A 49-year-old secret revealed
Ingredients:
3 pounds of lump crab meat
6 eggs
Dijon mustard (Ken said, "Just a little")
Mayonnaise
Fresh chopped parsley
Directions:
In one pan, pick through the lump crab meat very carefully, making sure to remove all pieces of shell. In a second pan, combine all the other ingredients, mixing thoroughly. Then gently blend the mixture into the crab meat. In a pan coated with oil, cook until golden brown or desired thickness. And feast.
Ken told me that it's the simplicity that makes these crab cakes so popular. He assured me that with just these ingredients, the cakes hold together well. I asked him how many crab cakes you could make with these proportions. His reply: "Depends on how big you want them to be."
If you have too many left over, give me a call. I'll take 'em off your hands.