Tavern on the Green at Spring Creek Golf Club
| January 5th, 2023
When you reach that (Zion's) crossroad(s) in your life, eat a burger
---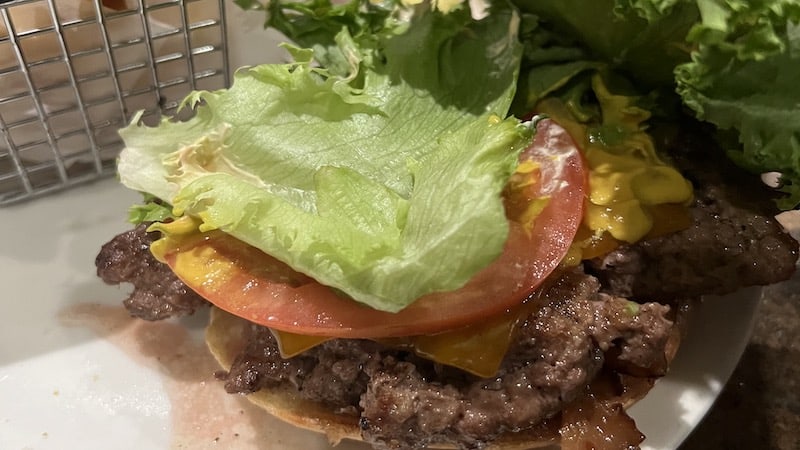 Eventually, food and travel writer Steve Cook tells us of his surprise experience at the Tavern on the Green restaurant at Spring Creek Golf Club at Zion's Crossroads, Virginia.
---
As you may know, but hardly care, one of the things that I tend to do in my senior years is spend much of my leisure time in the Charlottesville and Gordonsville area. Years ago, we bought a timeshare at Shenandoah Crossing in Gordonsville. At the time it was kind of a poor man's country club . The golf course shut down several years ago and after sitting unused and unloved, it has recently been converted into Raptor's Roost disc golf course – one of the best in the nation, I'm told.
I drove by the course, but since there are no windmills and no clown's face through which I must hit the ball, I didn't go in. Why am I telling you all this? Well, another thing I tend to do in my older years is ramble. However, there is a point in here, somewhere.
One of the reasons the golf club at Shenandoah Crossing closed down is because a new golf club in Zion's Crossroad, about 20 minutes away, started attracting all the golfers away from Shenandoah. Spring Creek Golf Club is a beautiful course but, sadly, still no windmills.
Now, I'm finally getting to my point. I discovered a fantastic restaurant at Spring Creek, recently. I guess it's okay to take credit for discovering the restaurant even though it's been there for several years. I mean after all, Columbus takes credit for discovering America and it had existed for several years before he got there. I am still allowed to use the name Columbus, I hope.
But back to the restaurant. We were out with another couple. I'll call them Wayne and Carol mainly because that's their names. We were looking for a place to eat in the Gordonsville area recently and someone suggested a Mexican restaurant in Zion's Crossroad, which is located right at U.S. Route 15 at the I-64 exit. The restaurant was so packed that we began looking for another spot and either Julie or Carol did a Google search and came up with Tavern on the Green. I'd never heard of it. I mean, I'd heard of the one in New York, but I had no idea that there was one out in Louisa County.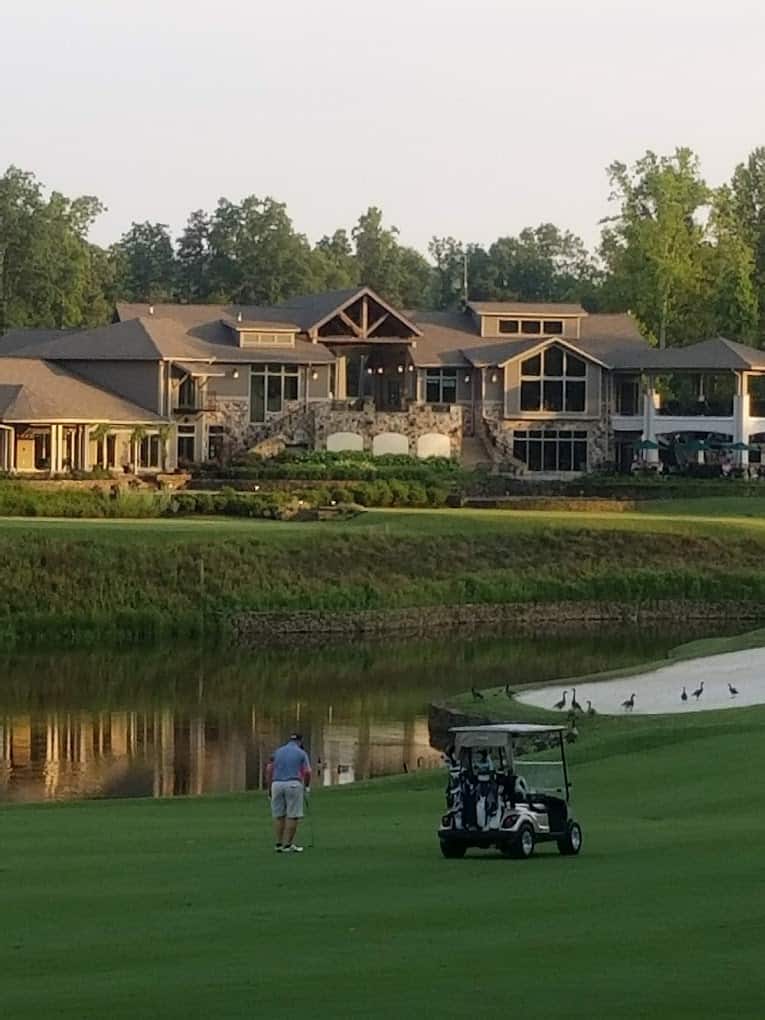 But sure enough, there is a Tavern on the Green at Spring Creek Golf Club. It's located at 109 Clubhouse Way. The name made me think it must be too fancy for my blood. I was hesitant to go, seeing how I was not dressed in my Sunday finest. However, I was more hungry than hesitant, so we headed over to the golf course. It was dark and rainy and perhaps that's why it seemed rather hard to find. You may have less trouble finding it, particularly when I tell you that you shouldn't be looking for a restaurant. It looks more like a small clubhouse. There's no big flashing neon sign saying "Eat Here." In fact when we looked in the windows at the clubhouse, there was no sign at all that there was a restaurant inside. What we couldn't see in the dark is that the building sat on a bluff overlooking the golf course below. So, when you go inside, you have to take the stairs or elevator down to the restaurant.
Once we actually got to the place, I was impressed. It wasn't too fancy. There were a few other diners and while they looked better than I, there were no mink stoles or tuxedos. The staff was very welcoming, the room was warm (thermally as well as cordially), and we sat down.
The crowd was sparse and I was beginning to worry. I worry a lot. I wondered, is this going to be plastic banquet food at an exorbitant price? I was looking for an exit plan. I've been known to bail out of a restaurant without ordering if I get bad vibes. But the vibes were all very nice. The server handed us our menus and I was delighted to see that the prices were reasonable.
While somewhat limited, the menu did offer a variety of salads, sandwiches, and entrées. I was still toying with the idea that I might stick to my diet, but when Wayne said he was going to have the hamburger, I caved. We both ordered the 19th Hole Burger. I love it when restaurants at golf courses come up with cutesy golf-related names for their food. I can understand why no one ever offers an Eagle Burger on their menu, though.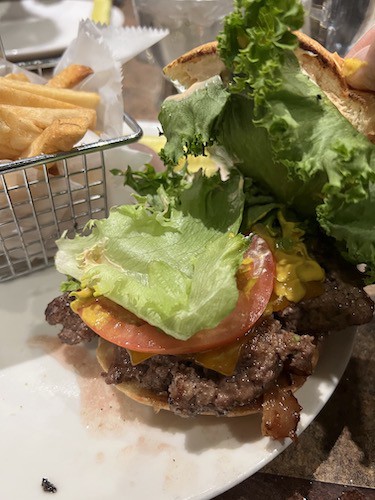 The burger was described as a "Hand Made Patty Topped with Bacon-Onion Jam, Pepperjack, Lettuce & Tomato with Firecracker Sauce." I couldn't have said it better, myself. I also could not have made it better, myself. In fact, I'm not sure I've ever had a better burger. The meat was moist and tasty, but what really made the burger stand out was the "firecracker sauce." I don't know what was in it. I didn't ask. I was too busy eating. But this burger was outstanding. At 14 bucks a burger, it's not cheap, but I felt it was worth every penny. The fries on the side were very nice, too – not too greasy but greasy enough to give you that good guilty food pleasure.
Our server told us that they do a mean Reuben, too. That would have been my second choice, but I truly am glad I did the burger thing.
I forget what Julie and Carol had. That's why I'll never make it as a real food writer. I'm too consumed with what I'm consuming. But I'll go back for another burger soon. And if I go on Wednesday night, the burger with a side is just $9. We were there on a Thursday night. Thursday is Taco night. You have to admire them for not having Taco Tuesday, don't you? I mean everyone else has Taco Tuesday, but at Tavern on the Green, on Thursdays you can build your own tacos from the taco bar. You can have three for $12, but if you're really cuckoo for tacos you can have all you can eat for $26. I told my grandson about that. He wants to try it out. He believes he can bring the price down to a buck per taco. I'm not sure I want to watch.
We sat in the dining room at the Tavern, but there's a pretty cool bar just beyond the dining area. I noticed it had two or three large-screen TVs. I didn't imbibe, but I did learn that on Wednesday through Friday, there's a Happy Hour from 5 to 7 p.m. offering $1 off draft beer, $1 off house wine, and $1 off single house liquor drinks. For some reason, on Monday, the Happy Hour runs from 10 a.m. until 5 p.m. I'm guessing with all the retirees in the area, they're celebrating the fact that Monday is not a back-to-work day for them. Check out the website. The place seems to always have something special going on.
Now, admittedly, Tavern on the Green is an hour or so away from Richmond. But it's much closer than the one in Central Park in Manhattan. And pricewise, this Tavern has the other one beat hands down. In New York, you'll pay $30 for a Tavern Burger. On Wednesdays, I can go to the one in Zion's Crossroads and have three burgers for less than that. So, which Tavern on the Green do you think I'm recommending?
As I've told you before, there's so much to do out this way. I love Charlottesville. There are plenty of wineries and breweries to visit, with some of the finest within just a few minutes of Gordonsville, and, of course, the mountains are always beautiful. So, treat yourself to a little getaway, and when you're up that way, I think you'd be happy with a visit to Tavern on the Green.
Tavern on the Green at Spring Creek Golf Club  
109 Clubhouse Way, Zion Crossroads, Virginia
---
Steve Cook has lived in the Richmond area for most of his life, working as a writer and editor and in marketing and radio. He loves to keep abreast of the local restaurant scene and researches the subject voraciously. "I used to think I was a foodie," he says, "but then I realized I just like to eat a lot." He once co-hosted a local Richmond restaurant radio program with BOOMER editor Annie Tobey. Steve completed his first novel in 2017 and says he hopes to read another one this year.
More Charlottesville