What's Booming: Lights, Oom-Pahs, Action!
| October 14th, 2021
Maymont is glowing. Your oom-pah-pah's showing. Here are five ideas, now get going.
---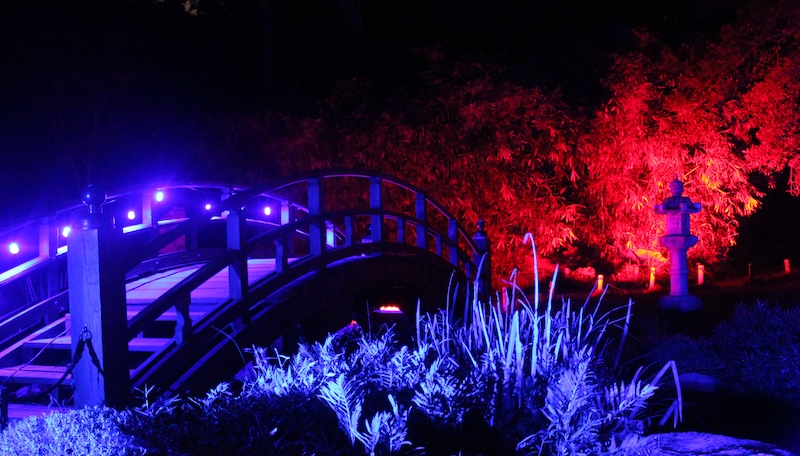 Garden Glow Lights at Maymont
Opens Friday, Oct. 15 at Maymont. Runs through Nov. 7
Let there be lights. Every Wednesday through Friday, the Carriage House at Maymont transforms into the Glow Village. Food trucks, a Glow Shop and a Glow Bar all serve to lighten the mood with enchanting Garden Glow lights. Explore the Wonderland Trail and the Japanese Gardens along the dramatically illuminated paths.
Harvest Party
Saturday, Oct. 16 from 1-4 p.m. at James River Cellars
Nothing says "Virginia is For Lovers" quite as nicely as an oyster and wine pairing, plus food trucks, live music and a gathering of local farmers who will be showcasing the best of what Virginia has to offer.
An Afternoon of Oktoberfest
Sunday, Oct. 17 at 3 p.m. at the Cultural Arts Center – Glen Allen
What's Oktoberfest without the Sauerkrauts – that's the band known for their authentic German-style music. Bring your lawn chairs for this outdoor concert.
Sandman Comedy Club Talent Show
Sunday, Oct. 17 from 7-9 p.m. at Sandman Comedy Club
Richmond's Got Talent. Do you? Come show off your talent, whether you're a comic, singer, dancer or whatever. Or just come watch your neighbors show off theirs.
The Super Sugar Beats
Wednesday, Oct 20 at 7:30 p.m. at Firehouse Theatre
Bubblegum music pops and hops into the twenty-first century with the Super Sugar Beats playing the music reminiscent of The Partridge Family, The Archies, Bay City Rollers, The Monkees and more.

After Garden Glow Lights, Check Out These Events … Down the Road
Legends On Grace: Robin and Linda Williams
Oct. 23, 8 p.m., at Dominion Energy Center
Richmond-famous celebrity Tim Timberlake hosts "Nightcaps & Stories, a 90-minute, up close and personal cabaret-style series that honors Virginia's musical artists. They share their legendary journeys, accompanied by the songs of their pasts, seated on a comfy sofa with favorite beverage in hand! Both in-person and on-demand options available.
Rocketts Landing Cap Trail 10M & 5K Presented by Dominion Energy
In-Person Race Day Oct. 30, 8 a.m.
Join the Virginia Capital Trail Foundation, the Richmond Road Runners Club, and our presenting sponsors Rocketts Landing and Dominion Energy for the 10-mile or 5K races, runs, or walks on the Capital Trail. A 52-mile dedicated multi-use trail connecting Richmond and Williamsburg along the beautiful and historic Route 5 corridor, our Virginia Capital Trail is a gem of a resource for RVA runners, walkers, and cyclists. In 2019 (the races' first year), there were 500 finishers of the two races.
All profits from the races benefit the Virginia Capital Trail Foundation programs to enhance, promote, and advocate for the continued development of the Trail.
Note: Hydration support will reflect the newest trend in race support: BYO cup! It's both environmentally friendly and hygienic. Water will be provided during the race, but participants bring their own cup, bottle, or other hydration container.