The New Camp Trapezium Brewpub in Amherst, Virginia
| June 22nd, 2021
A bucolic setting for wild and funky ales – plus pizza and overnight stays
---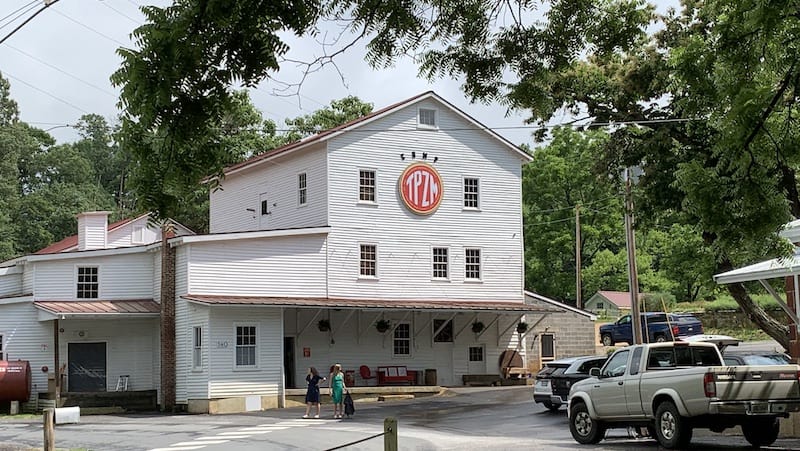 The new Camp Trapezium brewpub in Amherst, Virginia, makes its home in a creatively renovated historic mill. The brewery specializes in mixed-culture fermentations and wild ales, supplemented by beers from its home in Petersburg. The food starts with a brick-fired oven, offering red and white pizzas as well as a modest selection of starters and desserts.
Just a few minutes north of Lynchburg, Camp Trapezium makes for an easy day trip from Roanoke, Charlottesville, Farmville, Petersburg, Richmond, and other Virginia cities and towns.
The Camp's older siblings
Camp Trapezium is the third brewery developed by Dave McCormack of Waukeshaw Development. Waukeshaw's portfolio is stocked with historic buildings and challenging renovations in small towns and ugly-duckling neighborhoods. Waukeshaw renovates a property, then creates a separate business to manage the new incarnations, including breweries and residential lofts.
"Small towns everywhere are struggling with identity, population, economic development. This presents very interesting opportunities," McCormack told the Richmond Times-Dispatch.
McCormack's first renovation-plus-brewery was Trapezium Brewing, which opened in 2016. He put the taproom and production brewery in a renovated a coal plant and an 1890 icehouse, in the once-neglected historic district of Old Towne Petersburg, Virginia. Right out of the gate, the brewery had a 30-barrel system and a bottling line. The 150-seat taproom included a kitchen serving brick-oven pizzas.
That was followed by Beale's in Bedford, Virginia, in 2017, in a deserted woolen mill. Besides the brewery's 30-barrel brew house, the old mill houses a large, high-ceilinged, industrial-chic taproom with full kitchen, plus outdoor patio and stage.
McCormack brought James Frazer on as head brewer at Trapezium Brewing. Frazer has continued to oversee beer brewing and planning for Waukeshaw's new properties, too.
Camp Trapezium brewpub in Amherst, Virginia
The renovated mill, most recently home to Amherst Milling Co., is an "evolved" structure with elements dating from at least the late 19th-century. It was active in the production of cornmeal and flour before closing in 2017. In 2018, the Virginia Department of Historic Resources placed the building on its Virginia Landmarks Register.
Beer production highlights Belgian-style beers and mixed-culture fermentations – 100 percent barrel fermented. "I'm going to be focusing on a few styles so it doesn't get too chaotic," Frazer said, mentioning Flanders red, oud bruin, and spontaneous fermentations. Knowing that Camp Trapezium was coming down the pike, he's been building his collection of barrels for several years. He also began working with Camp Trapezium branded beers long before the official opening.
Frazer aims to use predominantly Virginia-grown ingredients (excepting hops). Toward that goal, he's been working with RVA Yeast Labs to harvest yeast cultures from the property and with Murphy & Rude Malting for the grain. He's been cultivating fruit on the farm and relationships with local farmers. In addition, the property is home to 18 beehives from Richmond-based Black Heath Meadery.
The renovated mill at Camp Trapezium houses a two-vessel five-barrel brewhouse, two 10-barrel stainless fermenters, a brite tank, and a coolship. "The fermenters will really be used for blending tanks and the brite tank will be used for a sugar tank to naturally carbonate the beer," said Frazer.
"It's a great opportunity to elevate and deconstruct the Trapezium brand – taking the things we've learned and exemplifying especially these mixed cultures by going heavy on fruit but also being really thoughtful about our hoppy beers, too."
---
While in the area, check out other Virginia gems:
Charlottesville's Dairy Market and The Wool Factory
---
Early beers at Camp Trapezium included
The barrel-aged, mixed-fermentation, wild-ale program started strong at the Camp Trapezium brewpub. These four beers were offered in bottles, brewed primarily with Virginia-grown ingredients, barrel-aged, and naturally carbonated.
Farmhouse series: Spring
Brewed in the farmhouse tradition, this beer is comprised of ingredients primarily grown on the farm. It's slightly tart with notes of overripe melon, strawberries, and banana.
Run Rabbit Run
The barrel-fermented fruited mixed culture also bursts with boysenberry and pomegranate additions, complemented by a rustic funkiness and vanilla oak.
The Orchard Series: Blueberry
Blueberries from Silver Creek Orchards in Tyro, Virginia, were fermented with a mixed-culture golden ale in red wine barrels for 12 months and conditioned on blueberries for eight months.
Chasing Ponies
Camp Trapezium-branded Chasing Ponies won a silver medal in the U.S. Open Beer Championship's sour/Belgian lambic style category. The fruited mixed-culture ale had a two-year gestation period of aging, fermenting, and refermenting. It presents a balance of acidity, farmhouse earthiness, and subtle notes of raspberry.
Visiting the Camp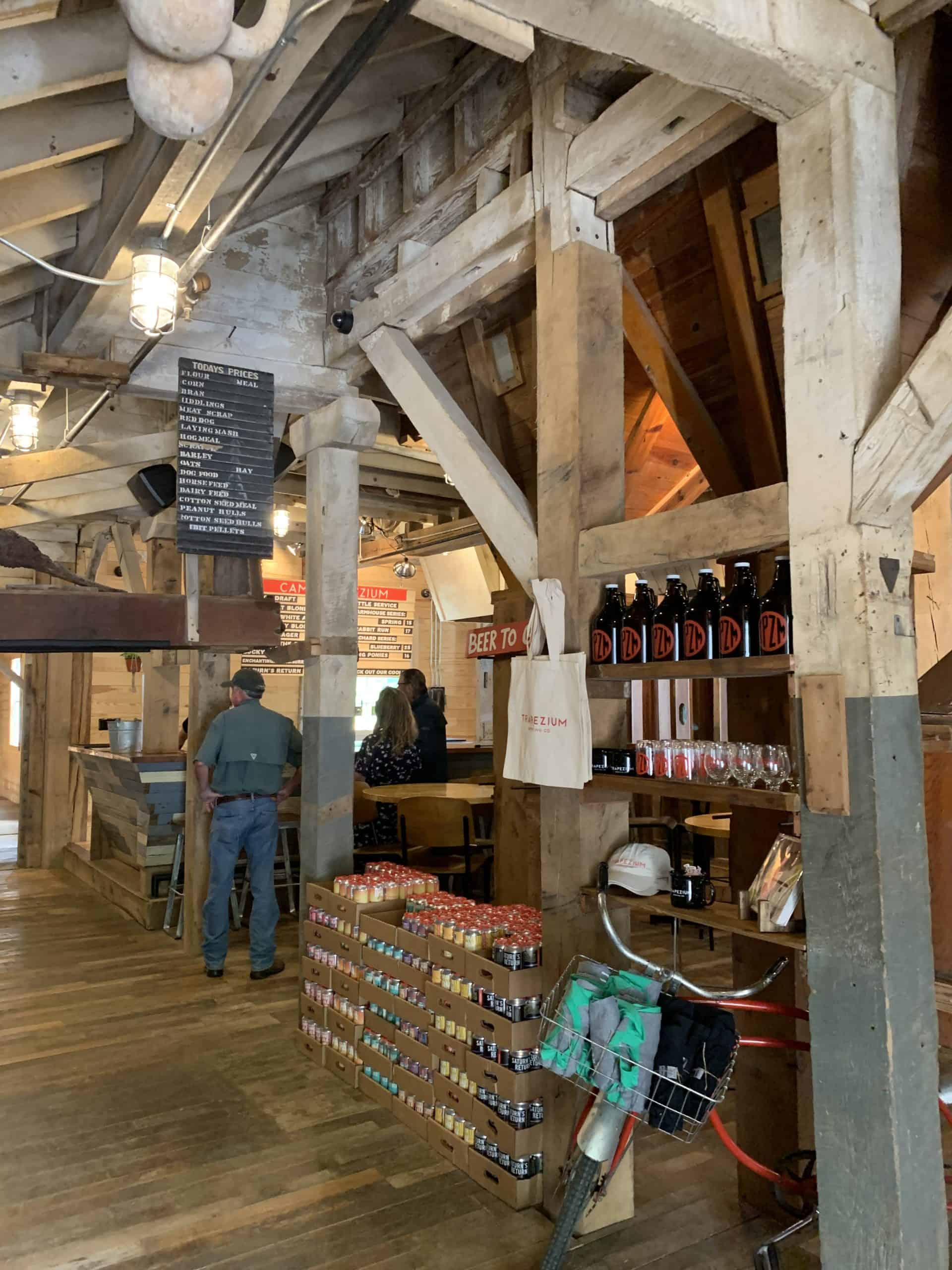 The renovated mill also houses a tasting room and a kitchen, with a creek-side biergarten outside.
The bones of the old mill create a solid, rustic atmosphere. Complementary accessories contribute to the look: an old mill price list, 1960 Virginia license plate, bear hide, a '60s-ish cruiser bicycle, and more. Though windows are few, lighting carries over the industrial feel while unobtrusively illuminating the interior.
In addition to mixed fermentation and wild ales from Camp Trapezium, the tasting room taps beers from the original Trapezium brewery. These include approachable gateway beers, such as a lemon-honey ginger, blonde ale, brown ale, porter, and lager, plus a diversity of other styles, including a farmhouse ale, New England-style IPA, double IPA, and more.
The kitchen serves brick-oven pizza, with both red sauce and olive oil and garlic base.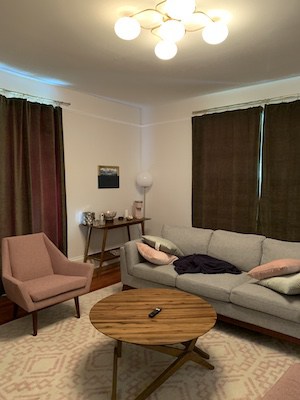 Just a few steps from the mill, a farmhouse has been converted to an eight-room B&B. The inn gives off a bucolic farmhouse vibe, with beautiful wood floors, country trim, and sloped ceilings on upper floors. Retro furnishings, fixtures, and accessories complement the vibe. Guests can relax on the covered front porch or comfy living room. Each room has a mini fridge, so guests can bring over Camp Trapezium beers to enjoy later. Rooms can be rented separately, or the house can be rented as a whole.
The ABC license extends across the Camp Trapezium property, enabling guests of the brewery and B&B to explore with beers in hand.
Still to come
Two more breweries are in the works for the Waukeshaw team.
Beale's East, Yorktown
As new, ground-up construction, the Yorktown project differs from its brewery siblings. The location will have indoor and outdoor seating, full-service bars indoors and out, and a pet-friendly patio. The kitchen will serve locally sourced seafood and other American fare.
Taps will pour Beale's flagships as well as small-batch, Yorktown-only releases, coming from the seven-barrel brewhouse, 15-barrel fermenters, and 15-barrel lagering tanks, with possibly a 15-barrel foeder.
Frazer sees Beale's East as a chance to take some favorites from the Bedford Beale's, modifying them to explore the brand. "York will be kind of like a playground … I'm working on the whole New Age American lager – what is that? I've been doing a little R&D and exploring it and trying to modernize lager from the German purity law." Craft brewers have created the India pale lager, but, Frazer asked, "What else can we do with lagers?"
93 by Trapezium, Church Hill
The Trapezium-branded location in Church Hill will use receiving and blending tanks rather than brewing its own beer. Fermented beer will come from the other locations to be inoculated with bacteria or put in spirit barrels or foeders, sometimes on oak, sometimes with fruit. "The beers come here to mature," said Frazer. "Essentially we're putting puzzle pieces together, letting them sit, then going back to our pieces to figure out what we're going to make.
"It's tough to come into Richmond with a brewery. There are so many amazing breweries … so you come in with something completely different – a blendery," said Frazer.
Waukeshaw Development purchased the 1927 Masonic lodge in 2020. The renovated building will include a kitchen, outdoor and indoor seating, and an event space on the second floor.
As with Camp Trapezium, Frazer started pulling barrels about two years ago – think Buffalo Trace, Blanton's, a Columbian 12-year rum, and Maraschino #3 char barrels – and working on the "artistry of blending."
"This will be the dark side of Trapezium," said Frazer, "a little rougher around the edges." In describing the vibe, he said, "It's going to be this place where like Ozzy would go after a show, where Black Sabbath would hang out, with tapestries, candles, a chalice, mysterious things. The whole Mason thing is mysterious; the branding is right there, we've got to tap into it."