Travelin' Memories with 100 Greatest Rock Songs
| February 9th, 2022
Boomer reader Steve Cullen shares a list of his favorite music
---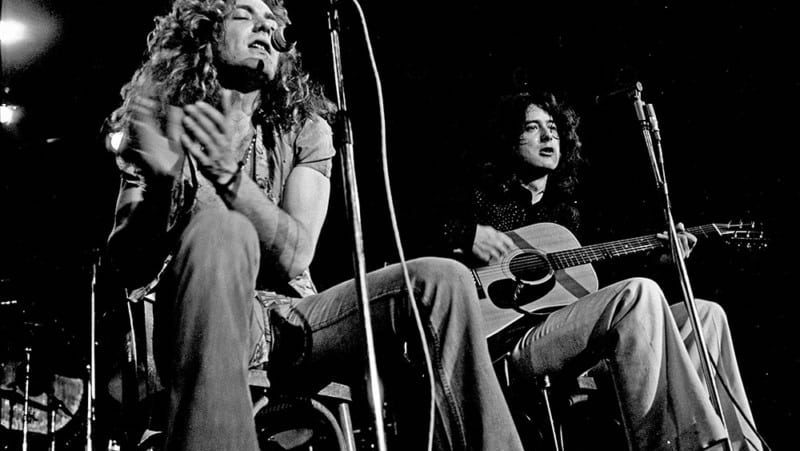 During a recent holiday visit with his grown kids, Boomer reader Steve Cullen says, "A highlight of the visit were the laughs we shared at remembering some of everyone's favorite music. I decided to put some thoughts down on paper and share it with my family." And then, he decided to share his list of the 100 greatest rock songs with other Boomer readers. Enjoy!
---
It's cold. It's bleak. It's winter … brrrrr. You need a vacation, but it's just not possible to get away right now. However, if you are very quiet and listen real hard, you may hear that faint, inviting announcement calling in the back of your mind, "Passengers may now begin boarding." Where are we going, you ask? Do you really need the name of the destination or is it maybe just enough in these cold, dark times to simply be going? Well, for us mud-entrenched sticks that like to know where we're heading before we head there, here's the latest update.
The most important thing to know is that you're going to a place that is … not here. In fact, it's not even now. You're taking a flight (of fancy) to the far, cobwebbed corners of your mind. Best of all, there is no metal detector to pass through. You won't have to take off belts, shoes, tinfoil hats, or any other garment (unless you want to, of course). There are no snaking lines in which you must queue. You can travel in whatever is the most comfortable seat, sofa, or lounge chair you can find! Also, I solemnly promise, you will not be seated between the lady with the dragon breath and the guy who, continually and without prompting, shares his opinions on everything that is wrong with the world today.
This ephemeral trip is merely offered to transport you to a better place, a happier time. To the when and where of no pandemic, no horrific weather event(s), not even a headline-driven calamity. There are only your blissful, fun-filled memories. The vehicle that will get you there has a name, and her name is Music.
It's been attempted before, but finally someone got it right! I'm talking about The List. No, not "the list" that some bearded, jolly dude who lives way up north checks twice to see who's been … well you know. This is The List of the 100 Greatest Rock Songs!
Well, allow me to amend that haughty title, slightly. Maybe it's not the definitive list … because that's impossible, right? But it is a list; it's my list. If it weren't for that darn subjectivity thing (inherent in the nature of such an undertaking), it might actually be the list.
---
---
Who am I to attempt such a list? I'll tell you who. I'm that old guy that's been around for much of the creation of this music. For what I wasn't cognitively around for, I gleaned through the miracle of records! You remember records? Round, black, sleek disks of grooved plastic that spun at various rates – 33, 45, heck even 78 rpms. Discs that we could barely wait to get our hands on. Whether it meant going to E.J. Korvette, Sam Goody, or the local record shop, we craved getting our hands on these treasures.
Once acquired, they would be taken home and listened to over and over to … yea, that ad nauseum thing. However, I personally don't recall ever being hit with the ad nausea part of such repetitions.
Feel free to go through this list with your most critical eye and judge it as harshly as you want, or consider it in the spirit in which it was assembled – cheerfully. No doubt you will read some selections and certain phrases will leap to mind. Be forewarned … I can maybe hear you thinking, "He's a moron" or "This guy's an idiot." Who knows though, you just might have a fleeting thought like, "Wow, that's a gem that I hadn't thought of in ages, thanks!"
It doesn't really matter how you judge the list – the only thing that matters is that you enjoy your trip through the memories of music and the happy feelings they bring back. Feel free to cuss, smile, ridicule, and/or laugh. Please refrain from crying; no one wants a soggy list!
The reasons behind my list of 100 greatest rock songs
The way this list works may not be exactly what you might have been expecting. I am not going to even attempt to rank the full 100 greatest rock songs. No, I'm not that big of a fool. I will, however, give you my number one. The song that whenever I hear it, wherever I am, whatever I'm doing, I get the urge to stop, listen, and, yea, maybe even sing along.
Just to be clear, the list is not based on sales. In fact, it doesn't even have anything to do with airplay spins or popularity. It's just a conglomeration that evokes fond memories, at least for me and hopefully you as well.
Before the attendants start throwing those minuscule but oh-so-highly coveted bags of peanuts and passing out beverages, feel free to put your tray table in whatever damn position you want! After all, it's your vacation. In return for this much-needed getaway, I simply ask your indulgence. If you feel that I've included songs that "ain't even rock 'n' roll," forgive me. This is also a slippery, subjective slope, and if I've crossed into your radar of a blues, country, or whatever tune, mea culpa, or as the young folks say … my bad! Without further ado, the number one ditty that always lights my fire (sorry, couldn't resist the low-hanging fruit):
#1 – Layla (Derek & The Dominos)
Betwixt, between and below, you'll find 99 possible stopovers on your excursion. Feel free to disembark and reminisce in whatever order you like and for as long as your heart desires. After all, you're the VIP traveling First-Class on this journey. We will not leave without you! Oh, I've also included the artist of the song just in case you want some help in tracking down the version in order to refresh your mojo with some of these bygone nuggets. This is also done to provide clarity. Like most great works, there are of course other artists out there who have offered up alternative takes on some of these tunes. To those tempters I simply say thanks, but no, thanks. Here is your itinerary, served up piping hot but in no particular order:
The rest of the 100 Greatest Rock Songs list
"It's Only Rock 'n' Roll," Rolling Stones
"Jailhouse Rock," Elvis Presley
"Baba O'Riley," The Who
"Dancin' in the Streets," Martha Reeves & The Vandellas
"Candle in the Wind," Elton John
"Addicted to Love," Robert Palmer
"War Pigs," Black Sabbath
"Black Water," Doobie Brothers
"Long Tall Sally," Little Richard
"Hotel California," The Eagles
"Johnny B. Goode," Chuck Berry
"Sweet Emotion," Aerosmith
"White Rabbit," Jefferson Airplane
"Enter Sandman," Metallica
"Killer Queen," Queen
---
'70s music: Styles of the Fertile Era
---
"The Twist," Chubby Checker
"I Love Rock 'n' Roll," Joan Jett And The Blackhearts
"Under The Boardwalk," The Drifters
"I'm Eighteen," Alice Cooper
"Born to be Wild," Steppenwolf
"R.E.S.P.E.C.T,." Aretha Franklin
"A Little Less Conversation," Elvis Presley
"Your Mama Don't Dance," Loggins And Messina
"Back in the U.S.S.R," The Beatles
---
The Beatles Are Here! and other books about the music phenomenon
---
"The Heart of Rock 'n' Roll," Huey Lewis & The News
"Southern Cross," Crosby, Stills & Nash
"Tequila," The Ventures
"Born in the U.S.A," Bruce Springsteen
"The Lion Sleeps Tonight," The Tokens
"Movin' Out," Billy Joel
"Margaritaville," Jimmy Buffet
"Paradise City," Guns n' Roses
"Gimme 3 Steps," Lynyrd Skynyrd
"Go Your Own Way," Fleetwood Mac
"Every Breath You Take," The Police
"Honky Tonk Women," The Rolling Stones
"Everything I Do," Bryan Adams
"Sharp Dressed Man," ZZ Top
"Black Dog," Led Zeppelin
---
The Yardbirds hatched Led Zeppelin … and more
---
"Creeque Alley," The Mamas And The Papas
"Never Been to Spain," Three Dog Night
"The Weight," The Band
"Proud Mary," Ike & Tina Turner
"Your Song," Elton John
"Walk This Way," Run-DMC
"What'd I Say," Ray Charles
"Foreplay/Long Time," Boston
"Heartbreak Hotel," Elvis Presley
"Travelin' Band," Creedence Clearwater Revival
"Come Together," The Beatles
"Mrs. Robinson," Simon & Garfunkel
"Rocky Mountain Way," Joe Walsh
"Rock 'n' Roll All Night Long," Kiss
"Heartache Tonight," The Eagles
"Lola," The Kinks
"You're So Vain," Carly Simon
"Heart of Glass," Blondie
"Pink Cadillac," Bruce Springsteen
"We Will Rock You," Queen
"Straight On," Heart
"Not Fade Away," Buddy Holly
"Brown Eyed Girl," Van Morrison
---
Classic rock: Simply the best?
---
"Brother Love's Traveling Salvation Show," Neil Diamond
"Pride," U2
"I Want You to Want Me," Cheap Trick
"Bad to the Bone," George Thorogood
"Money for Nothing," Dire Straits
"Boys of Summer," Don Henley
"Night Moves," Bob Seger
"Crazy Little Thing Called Love," Queen
"I Heard It Through the Grapevine," Creedence Clearwater Revival
"Pink Houses," John Mellencamp
"Mystery Train," The Brian Setzer Orchestra
"Pinball Wizard," The Who
"Once Bitten Twice Shy," Great White
"Takin' Care of Business," Bachman Turner Overdrive
"We're an American Band," Grand Funk Railroad
"Start Me Up," Rolling Stones
"Bad Reputation," Joan Jett
---
---
"Willin'," Little Feat
"Turn the Page," Bob Seger
"Guitar Town," Steve Earle
"Mustang Sally," Wilson Pickett
"Oh, Pretty Woman," Roy Orbison
"Jump," Van Halen
"Late in the Evening," Paul Simon
"If I Had a $1,000,000," Barenaked Ladies
"American Woman," The Guess Who
"Wicked Game," Chris Isaak
"Comfortably Numb," Pink Floyd
"Shout," Otis Day and The Knights
"Maggie May," Rod Stewart
"Just What I Needed," The Cars
"I'm a Believer," The Monkees
"One," U2
"Good Vibrations," Beach Boys
"Lovin', Touchin', Squeezin'," Journey
"Like a Rolling Stone," Bob Dylan
"You Shook Me All Night Long," AC/DC
Whew, that was quite a journey! So many places, people, thoughts, and reflections revisited. I hope that you enjoyed your trip and some time away from the aggravations and anxieties that make up this thing we call modern living. If you're not quite ready to end your vacation, I invite you to go back and listen to a few more of these tunes or even make your own list and give that a listen! Sure, it's still not summer outside, but doesn't it feel just a little bit warmer, a smidgen more hopeful, a tad more festive having old friends such as Elvis, Elton, Tina, and others playing in your ears?
Here's to Travelin' Music!
Steve Cullen
---
Steve Cullen is a retired sales professional who moved to Richmond 16 years ago, with his wife of 45 years, and they are delighted to call Richmond home! "We appreciate having plenty of choices of activities, ease in getting around town, and no shortage of friendly people to surround us," he says. "As readers may be able to attest, I love all things music and had the pleasure of hosting a weekly internet radio show on WorldWideBluegrass.com for three years. Reading Boomer magazine has brought many smiles, and if you and I can share one during these trying times … good for us!"
You can reach out to Steve with any comments at scullen334@gmail.com.