11 Favorite Virginia Boutique Hotels
January 13th, 2023
Lodge like a guest, not a customer
---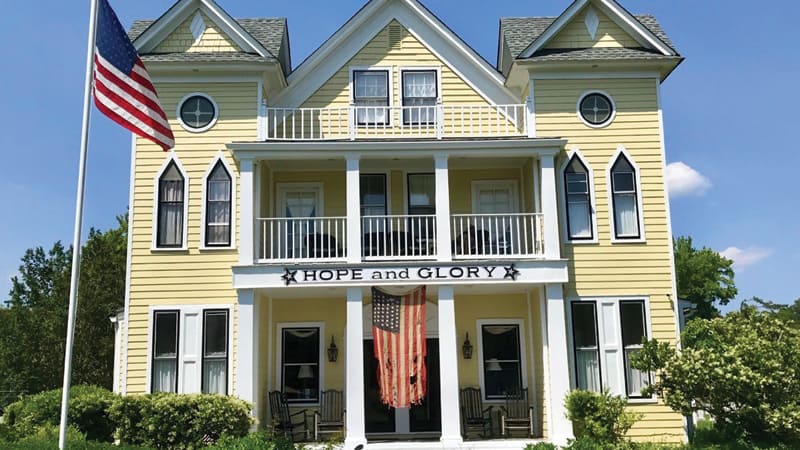 The first step into a "boutique" hotel room feels different, like sliding your hand over fine silk fabric. These contemporary Virginia boutique hotels hotels reach beyond the typical cookie-cutter sleeping spaces, ensuring that your lodging will be as memorable as your destination. Rooms are fitted with distinctive furnishings and décor, often reflecting the spirit and history of the area. The typical boutique hotel has fewer than 100 guest rooms, a contemporary vibe, quality amenities (including modern technology and conveniences), elevated service and noteworthy dining options, usually set in a vibrant city or town.
We've chosen 11 favorite Virginia hotel destinations, including several historic venues with boutique-like welcoming vibe and contemporary conveniences as well as more modern structures. Oh, and these favorites are all surrounded by other worthy sites to see. That is, if you can pull yourself away from your room!
Published Nov. 15, 2019; updated Jan. 13, 2023
---
HOTEL CAPE CHARLES, CAPE CHARLES
Modern tranquility on the Eastern Shore
Every winter, when the hotel closes for the season, the renovated 1880s building receives detailed maintenance and touch-ups. This annual upkeep ensures that the blend of contemporary furnishing (including artwork by Miriam Fried) and historic structure (think high ceilings, with wood floors and exposed brick in select rooms) stays fresh and sparkling.
Settled among distinctive retail and restaurants in cozy Cape Charles on the Eastern Shore, the inn is both vibrant and restful. Additional touches to elevate the experience include organic linens and bath products, complimentary use of beach chairs and cruiser bikes, and rental golf carts. ~ Annie Tobey
Walkable & worthwhile
A 5-minute walk from the hotel, the Cape Charles beachfront on the Chesapeake Bay hints at the beauty and benefits of Virginia's Eastern Shore.
After exploring the shops along Mason Avenue, kick back at Cape Charles Distillery, with tasting flights or cocktails, or Buskey Cider on the Bay (limited hours in the off season).
Let SouthEast Expeditions outfit you with a kayak or stand-up paddleboard or take one of their guided tours to a wildlife refuge, winery or clam bed.
---
HOPE AND GLORY INN & VINEYARD, IRVINGTON
Old school charm combined with modern amenities
When it comes to making each guest feel special and pampered, you might say the owners of the Hope and Glory do things "old school," which is quite fitting since this bright and charming inn was an old school, dating back to the late 1800s. Hand-selected antique furnishings create a distinct uniqueness to every room. But there's nothing antique about the luxury and comfort of your room's linens, towels and toiletries. For an even greater get-away-from-it-all experience, you may choose to enjoy one of the private cottages.
Chef Meseret Crockett mesmerizes guests with her culinary artistry in the dining room.
In season, relax by the salt-water pool or enjoy a garden bath in the private outdoor claw-foot tub. ~ Steve Cook
Walkable & worthwhile
"Sip (wine) and Slurp (fresh oysters)" at the Inn's nearby Dog & Oyster Vineyard.
Sample the region's history at the Steamboat Era Museum (open seasonally).
A three-minute drive away, Historic Christ Church, built in 1732, is a must-see for history buffs as well as those who appreciate Colonial architecture.
---
HISTORIC CAVALIER HOTEL, VIRGINIA BEACH
Luxurious grand hotel, contemporary style
Journey back to the 1920s, when celebrities such as Judy Garland walked the hallways of this historic hotel. The storied ambience continues through the spacious halls and into the expansive lobby, where cushy sofas and chairs beg you to relax as the ocean breeze slips through the floor-to-ceiling patio doors.
Guest rooms feature marble bathrooms and modern luxuries. For a distinctive vibe, book a Heritage Suite, with designs ranging from orange and blue midcentury modern to the earthy colors of the equestrian world. Stop in The Tarnished Truth Distilling Company in the lower level concourse for a glass of the distillery's flagship bourbon or three-year high rye bourbon. ~ Joan Tupponce
Walkable & worthwhile
On site at Cavalier Beach Club (open May to October), enjoy an infinity pool, hot tub and cabanas with poolside bar service.
Stroll down the three-mile Virginia Beach Boardwalk and stop for a cocktail at one of the outside bars.
---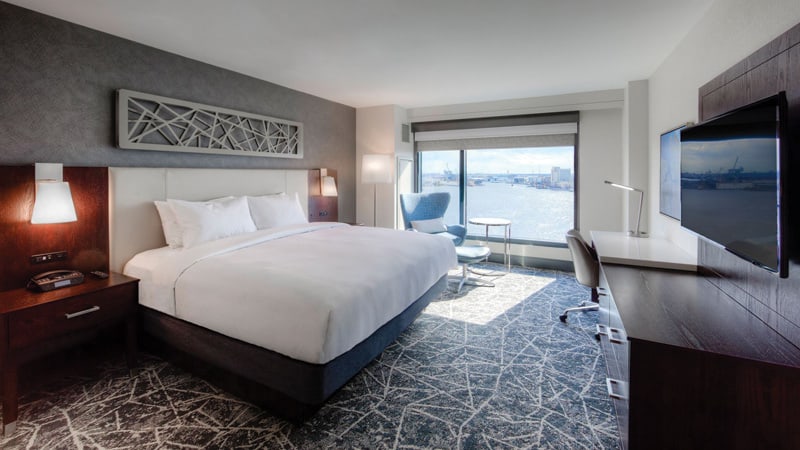 THE MAIN, NORFOLK
Urban luxury
Luxuriate in contemporary style at one of the most artistic Virginia boutique hotels. Enjoy original modern art throughout the hotel. Gaze out over the Elizabeth River or the downtown skyline. Treat yourself with a luxury suite, king suite or the presidential suite, or move up to the amenities of the Empyrean executive club.
The Main offers three restaurants to write home about: seafood and craft cocktails in a retro vibe at Saltine; Italian cuisine and wine in the classic atmosphere at Varia; and elevated pub food and more than 100 beers at Grain rooftop bar and patio overlooking the river. ~ AT
Walkable & worthwhile
Downtown Norfolk is your oyster, filled with plenty of pearls, such as Nauticus Maritime Museum and the USS Wisconsin.
Set sail on an American Rover cruise or Victory Rover naval base cruise.
Indulge in homemade sweetness at Hummingbird Macarons and Desserts for sweets that are as creative and artistic as they are delicious.
---
RED FOX INN & TAVERN, MIDDLEBURG
Hunt and wine country surround 18th-century ambience
In late 18th-century Middleburg, the fieldstone Red Fox Inn & Tavern – one of the oldest continuously operated inns in the United States – is more than meets the eye: a full three acres of historic inn with "The Stray Fox" complex of adjacent cottage rooms and courtyard gardens for intimate getaways.
After a day in Loudoun County's Hunt & Wine Country, enjoy the inn's plush robes, upscale (C.O. Bigelow) amenities and seasonal tasting menus of local harvest for dinner – or a casual gathering at The Night Fox Pub.
Morning coffee and tea service delivered to your room before your sit-down breakfast, included in room price. ~ Martha Steger
 Walkable & worthwhile
Explore Middleburg's compact downtown, on the National Register of Historic Places, an eclectic mix of antiques and gift shops, art galleries, clothing boutiques and cafés.
The National Sporting Library & Museum showcases the rich heritage of rural life, from angling to steeplechasing, foxhunting and flat racing.
---
KENMORE INN, FREDERICKSBURG
Traditional elegance, relaxing atmosphere
Walking past the stately front porch columns and into this charming boutique hotel feels as if you are stepping into a different time and place. Originally built as a private residence in 1793, the property became an inn in 1932. Inviting and relaxing, each guest room has a different classical ambience, thanks to varying color palettes and furnishings.
The manicured gardens and shaded garden patio connect guests with the therapy that only the outdoors can provide. ~ JT
Walkable & worthwhile
Stroll the historic streets of downtown Fredericksburg, with boutique shops and a variety of dining experiences. Put FoodE and its breakfast/brunch sister Mercantile on your itinerary to make delicious memories.
Rising Sun Tavern Museum, home of Washington's brother, Charles, has much of the original woodwork intact.
---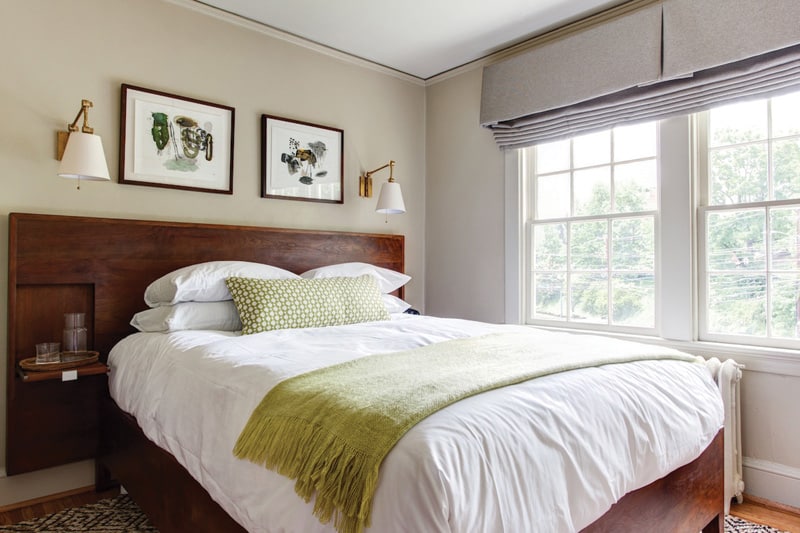 OAKHURST INN, CHARLOTTESVILLE
Many tiny details for one extravagant experience
From complimentary valet parking to courtesy refreshments to a nightly turndown service (complete with homemade ginger cookies!), this boutique hotel spares no opportunity for hospitality. Oakhurst Inn's 35 rooms are spread among seven buildings, each building boasting its own individual theme.
Sprinkled between every historic, century-old building lies chunks of outdoor space to enjoy Charlottesville's verdant offerings, with amenities like hammocks, lawn chairs and even a salt-water pool.
Find an onsite café, serving up coffee, breakfast and lunch made up mostly of local, farm-to-table ingredients. On Mondays, settle in for jazz night in Oakhurst Hall, located conveniently next to the Château Lobby Bar. ~ Rachel Marsh
Walkable & worthwhile
Charlottesville's Downtown Mall is an eclectic pedestrian strip full of shops, breweries, restaurants, theaters, patios and cafés.
The University of Virginia campus provides acres of smooth walking paths, well-maintained landscaping and historic buildings.
For food and bragging rights, visit Bodo's Bagels, a local deli-café known for authentic New York-style bagels and sandwiches.
---
HOTEL WEYANOKE, FARMVILLE
Mid-century modern décor, modern luxury
Entering your room at the Hotel Weyanoke in Farmville seems more like walking into a friend's guest bedroom – a friend with refined decorating sense. Mid-century modern décor complements artfully decorated walls reflecting local lore, a stylish bathroom and luxurious linens and toiletries. The hosts also provide locally crafted water tumblers and coffee cups, freshly ground coffee for the in-room coffeemaker and a lap desk. The renovated 1925 redbrick building plus a new wing also houses Effingham's casual dining and pizzeria and The Catbird rooftop bar and lounge. ~ AT
Walkable & worthwhile
Shop the 13 buildings of amazing buys on furniture and accessories at Green Front Furniture.
Make your way along High Bridge Trail State Park, a 31-mile, mostly flat rail-to-trail pathway for bicyclists, equestrians and pedestrians.
Enjoy sips from The Virginia Tasting Cellar, serving a diversity of Virginia wines, ciders and beers, and Three Roads Brewing.
---
CRADDOCK TERRY HOTEL AND EVENT CENTER, LYNCHBURG
'Always the perfect fit'
This small hotel is as comfy as your favorite pair of slippers. Scattered throughout two historic buildings, renovated rooms reflect the personality of the historic shoe factory: brick walls, hefty beams and joists, accented by modern amenities, touches of luxury, classic furnishings crafted locally and fun shoe-themed accents throughout – including the wooden shoebox that contains your fresh continental breakfast each morning.
The hotel's two restaurants satisfy your appetite: Waterstone, specializing in fire-roasted pizza and more, and Shoemakers, prime steaks and seafood. Oh, and the wine station in the lobby offers a by-the-ounce option for in-room romance and relaxation. ~ AT
Walkable & worthwhile
Renewed downtown Lynchburg offers an abundance of distinctive dining and retail. Try MayLynn's Creamery. Your sweet tooth will thank you.
Plan your trip around one of the memorable performances at the historic Academy Center of the Arts, including symphonic music, Shakespearean plays and performers such as Ira Glass and Steep Canyon Rangers.
Just down the bluff from the hotel, explore the city's scenic, flat and maintained trail system, extending through miles of peaceful natural areas.
---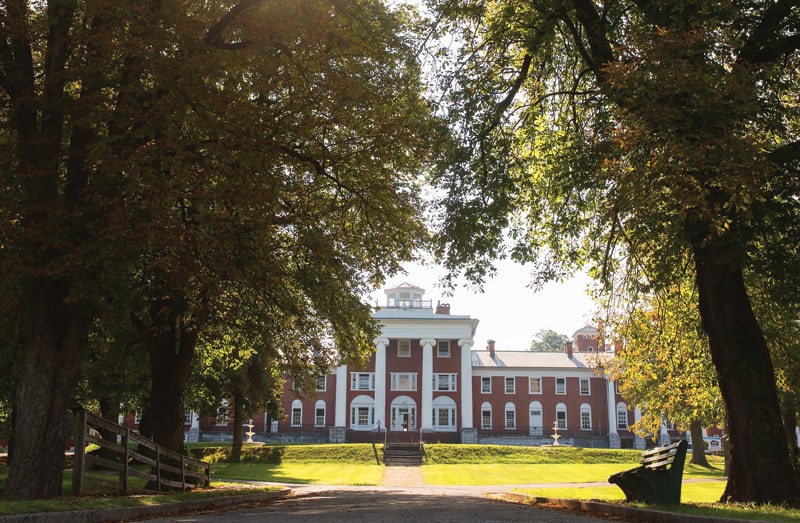 THE BLACKBURN INN, STAUNTON
Distinction and drama in the Shenandoah Valley
A house-made lavender shortcake by your bed each evening marks the distinctive experience at the Blackburn, whose 49 rooms feature 27 different floor plans. Towering hallway arches, 12-foot ceilings and a climb to the cupola with an expansive city view add drama to a stay. Material in the reception area informs guests on Thomas Jefferson protégé Thomas Blackburn's renovation of this mental hospital, constructed between 1825 to 1828.
Enjoy a complimentary light European breakfast featuring Virginia meats, cheeses and exquisite local pastries at Second Draft Bistro or on the adjacent porch, where drinks and light fare (including soups and chili) can be taken later in the day. ~ MS
Walkable & worthwhile:
American Shakespeare Center's Blackfriars Playhouse presents timeless performances – with a complimentary seating upgrade promised by the inn when tickets are purchased during a stay.
Visit the Woodrow Wilson Presidential Library & Museum in Staunton, the 28th president's birthplace (known as "the manse"), grand galleries and library, elaborate gardens and gift shop.
---
THE MARTHA WASHINGTON INN & SPA, ABINGDON
The rest is history
It's a toss-up at The Martha whether you'll spend more time resting in your room or enjoying the scattering of spaces on the grounds geared toward relaxation and fun. The stately rooms are classically decorated – appropriate for the 1832 building – each one with its own special personality.
Extras include multiple sitting areas, indoors and out, a year-round salt-water heated pool, outdoor, night-lit Jacuzzi, miniature golf course, fitness center, bicycles for tootling around town, boutique shop, 1,000-volume library with comfy chairs, port each evening and spa services. Sisters restaurant provides a complete, sit-down hot breakfast restaurant (complimentary for guests), dinner and drinks. ~ AT
Walkable & worthwhile
The historic State Theater of Virginia, Barter Theatre, presents multiple shows year-round from a professional troupe.
The rails-to-trail Creeper Trail ends in Abingdon, so you can cycle, run or stroll it to your heart's content.
Besides local craft beer and food trucks, Wolf Hills Brewing serves up live music with a local touch.
Abingdon is surrounded by outdoor treasures a short drive away, including Grayson Highlands State Park, the Appalachian Trail, and Mount Rogers, the highest natural point in Virginia.